Types of Travel Trailers
There are many different Types of Travel Trailers. These are the five basic models.
Popups
Hybrids
Traditional Travel Trailers
Fifth Wheels
Toy Haulers
A Travel Trailer is pulled behind a vehicle for recreation or for a full-timers way of life. They are typically pulled behind a truck, SUV, or a van; although lighter popups can be hauled behind small cars.  The size of your tow vehicle must match the weight of your trailer.
Travel trailers offer many varieties of plans and layouts.  Again, it just depends on what fits your way of life and your preferences.   You can go from your basic popup for camping or to your all out fifth wheel which offers all the features that are found in a home. 
Types of Travel Trailers...
Popup's
In general popups are used for camping.  However; many people do use them while traveling.  They can range from a small eight foot box to a larger box to about sixteen foot.  They can extend from sixteen feet to over thirty feet.  This your typical "soft shell" start out camper for beginners.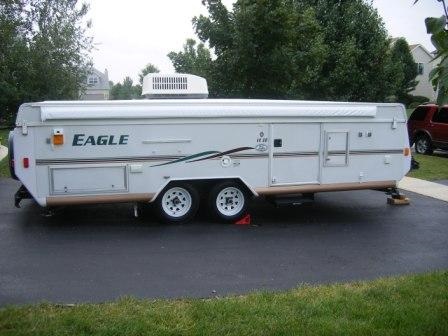 Hybrids
Hybrids come from the popup family, but also from the traditional travel trailer family.  The only difference is, they have wings for the beds and they pop out.  This is your typical "hard shell" start out camper for beginners.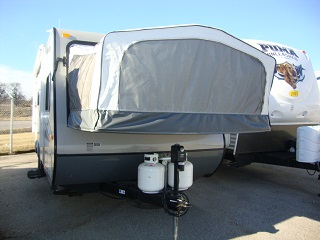 Traditional or Conventional Travel Trailers
Traditional travel trailers start to offer the variety of floor plans.  They come in many different sizes, lengths, and offer lots of sleeping room too.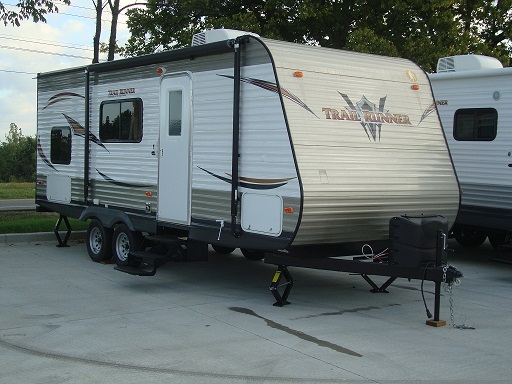 Fifth Wheels
Fifth wheels are the only travel trailer that actually attach to the inside of your truck bed.  They offer a unique hitch that you must have before purchasing your travel trailer.  The appropriate tow vehicle is needed for this model.

Toy Haulers
Toy haulers are unique in an essence, because they are the only travel trailer that you can haul a small vehicle or a golf cart in the back while you are traveling.  For most of us toy haulers are either a trailer that you like or dislike. 

Continuing on Your Journey
As you can see, there are many different types of RVS.  The best way to figure out which one fits your life style, is to visit your local RV Dealership and take some tours of them. 
You can also visit your local RV shows when they come to town.  Touring is the best part, that's when you can actually tell if that particular model is for you or not. 
Last but not least, have you ever considered renting an RV? By renting, you can certainly figure out more by what you and your family need in an RV. Make sure you have the correct tow vehicle before deciding on the RV of your dreams.
Have fun exploring!

Written By: Melissa
Exploring Travel Trailers>Types of Travel Trailers