Travel Trailer Rentals
Travel Trailer Rentals is one of the best resources for determining if a travel trailer is right for you.  Renting a travel trailer before you buy one gives you the opportunity to try the different types of travel trailers to help you decide which style you enjoy the most.
That is how my parents started out.  They rented a small popup to see if they would like it.  Shortly after returning the rental unit, they purchased our first camper which was a Sears tent camper.  We camped as a family for many years, in many different trailers as a result of that one trial run.
As a wedding gift, my parents booked one of Thousand Trails travel trailer rentals for us in Orlando.  It was a nice unit and it gave Melissa her first exposure to the world of travel trailers.  We enjoyed it very much!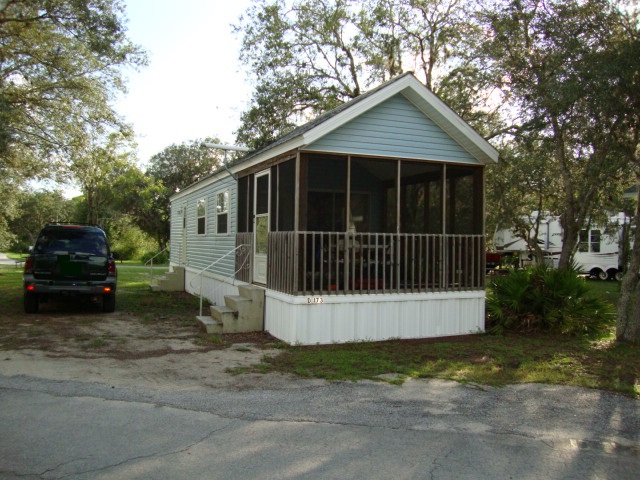 Our travel trailer rental at Thousand Trails-Orlando
Things to Consider Before Renting
There are many options for people who want to rent travel trailers.  The question is which rental option is right for you?
Before committing to a rental, you need to consider a few things;
Your budget:  Renting a travel trailer is not cheap.  One weeks rental can cost over $1000 plus park fees, food, gas, etc.  You also need to consider the costs associated with preparing your vehicle for towing. For example hitches, brake controllers, and wiring for the trailer plug.

The vehicle you will be towing with:  Know your vehicle's towing capacity.  A good rental facility will not rent a unit if your vehicle is undersized for that trailer.
What kind of trailer will meet your needs:  Consider how many people will be sleeping in the camper, how much food you will be taking, how much storage you need, and which type you are most comfortable towing.

Where to Find Travel Trailer Rentals
I have seen a lot of changes in the travel trailer industry over the years.  From lighter, more Eco-friendly units, to complete "mansions on wheels".  But in my mind, one of the best changes has been through travel trailer rentals.
Travel trailer rentals are now available in all shapes and sizes.  Back when my parents rented, tent campers were the most common.  Now, conventional travel trailers, fifth wheels, and toy haulers can be rented just as easily.  Some rental companies will even tow the unit to the site, set it up, then tear it down when you are finished.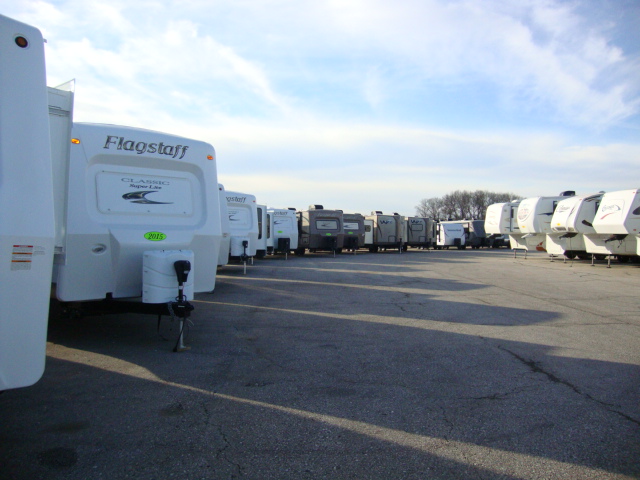 Travel trailers can be rented at many local RV dealers
So, you ask, where can I find a travel trailer to rent?  Today there are many options available to you.  Below I have listed a few of the options to you. 
Local RV dealers:  This is a great source for anyone seeking to explore travel trailers with the intention of a possible purchase.  While some dealers may have a fleet of rental only units, many will rent from their inventory.  Some might even deduct the cost of the rental from the purchase price, if you decide to buy that unit at the end of the rental term.  Camping World does rent trailers at select locations, check with the branch closest to you to see if any are available.
National RV rental agencies:  Many of these agencies only rent motor homes, but a few, like El Monte RV, do rent pull behind travel trailers.  Some also rent fifth wheels, but term as temporary housing and generally will not rent them as towable units. RV Share is also another great company that offer rentals.
Campgrounds:  This option is not available in every campground, but is becoming more popular especially in resort areas.  Thousand Trails and KOA are two better known campgrounds that rent travel trailers.  Check the internet to find campgrounds that have rentals.
Private Owners:  I do not recommend this option unless you know the renter or have a well written rental contract.  Even though you could save a lot of money this way, the risk to both of you is greatly increased.  Further more if any problems develop with the unit while you are renting it, there is no back up plan and your trip could end in disaster.  It is best to rent a travel trailer from a reputable agency with plenty of rental experience and inventory.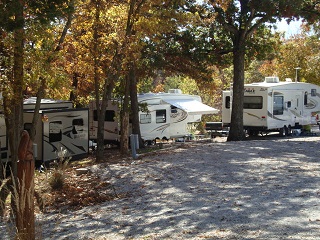 Do Your Homework
Travel trailer rentals should be approached the same way as if you were planning a purchase.  You would not dream of committing a large amount of money to a purchase with out checking all the facts and figures first.  In the same way you need to do detailed research before signing the rental agreement.  Do not let price be your only deciding factor.
Determine your destination and rental dates.  By doing this you can get a more accurate quote on the cost of your rental.  In many cases the longer your trip, the more costs that will be incurred because of mileage restrictions.  Some places will charge an extra fee for every mile over a preset amount.  Most dealers will also offer a reduced rental rate if you reserve six months, or further, in advance.
Determine what unit works best for you.  A little time spent online looking at various options and floor plans will help ensure your vacation will be as comfortable and enjoyable as possible.
Get quotes in writing.  Not only will this protect you from any surprises when you sign the agreement, but having written quotes will also help you decide who to sign with. 
Visit the facility and physically look at the trailer, if possible.  Doing this will give you an opportunity to assess the how knowledgeable and friendly the staff are.  It also gives you a better chance to determine if that trailer will meet your needs.  If this is not possible, request recommendations from former customers and check their online reviews.
Check tow vehicle requirements for the trailer you plan to rent.  Most rental agencies and dealers will have this on their websites.  The most common items requires to be present on the towing vehicle include; a minimum tow rating of 5000 pounds, a frame mounted class three receiver, a functioning seven pin electrical socket, and a functioning  electric brake controller. 
Time to Enjoy!
Travel trailer rentals can be a great way to explore the travel trailer lifestyle and have a great time as well.  Many families have found a new hobby by renting a trailer and discovering the enjoyment that it brings.  Now it is you turn, enjoy the ride!
Written by: Scott
Exploring Travel Trailers> Travel Trailer Rentals