Wally Byam

Among the pioneers of the RV industry, Wally Byam is probably the most notable and interesting person you could get to know.  Wally was founder and president of Airstream Travel Trailers.  His love for the outdoors, travel, his product, and people were evident in everything he did.  As I have read about Wally, I have grown to have a deep love and respect for this man and I believe you will too.

Courtesy of Wikipedia
Wally Byam a Man of Work a Man of Vision
Wallace Merle Byam, or Wally as he was known, was born on July 4, 1896 in Baker City, Oregon.  From the time he was a child his life was centered around  travel. 
As a young child he traveled with his grandfather, who led a mule train in Baker Oregon.  Later as a teenager, Wally worked as a shepherd and lived in a two wheeled cart that had a kerosene cook stove, sleeping bag, and wash basin.  Both these experiences played a large roll in his love for travel and the future development of his travel trailer, the Airstream.
After finishing high school served three years in the merchant marines.  During his tenure he worked his way up from cabin boy to ship's mate, showing his drive and determination to succeed.
When he returned to the states, Wally enrolled in Stanford University.  He worked his way through college and earned a law degree in  the early 1920's.  However, he never applied for his bar exam, instead he took a position at the LA Times as a copy writer.
Later, Wally  started his own agency and became a publisher, starting several magazines.  One of his ventures was a do-it-yourself magazine where he published an article with plans on how to build a travel trailer.  When he received countless complaints about theses plans, he decided to try it himself and found the design had many flaws and was not easily built. 
A medical student, purchased one of the first set of plans, and decided to build a 1935 Airstream.  This Airstream is still on the road today!
The Start of a New Venture
After discovering that the plans he published were not user friendly, Wally Byam redesigned the plans, lowering the floor to fit between the wheels and making other improvements to the design.  As soon as he built it he had an offer to buy the trailer and he knew he was on to something. 
Wally published the new design and they were an instant hit. He sold the plans in Popular Mechanix, as it was spelled in the 1920's.  However,  he received many requests for him to construct the trailer instead. 
Wally began constructing trailers in his backyard.  When neighbors complained, he purchased his first factory and Airstream was born.  He was obsessed with the quality and practicality of his trailers and the public took notice.  Even though the Airstream was an expensive trailer during the great depression, demand for that unit continued to grow.
A Brief Pause, Then Back on a Roll
World War II caused Wally Byam to close the doors of his beloved company and take a position at an aircraft manufacturing plant for the duration of the war.  After the war, Wally got back into trailer manufacturing as an employee at Curtis Wright.  He developed the Curtis Wright Clipper, which was an improved model of his earlier Airstream Clipper.
In 1948 Wally reopened Airstream.  He was quoted as saying, "I was not cut out to be an employee."  Armed with the experience of building aircraft, he took that experience and applied it to his line.
Airstream became the lightest, yet sturdiest travel trailer on the market.  The motto of Airstream became "never change, always improve."  This thinking is present in the Airstreams of today.  To look at a new model, you can see the same design of the models that Wally built.
Wally would scour the world looking for any accessory that he could put in his trailers.  If he couldn't find any, he would have it made.  This tenacity not only benefited Airstream, but also launched several companies who's products are seen in recreational vehicles to this day.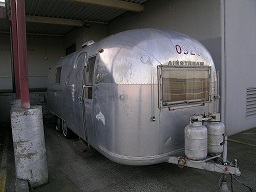 An Old Timer
A Return to His First Love
Probably the reason Wally love travel trailers so much, was the fact that he loved to travel.  By the 1950's Wally became less involved in the daily operations of Airstream in order to pursue another venture.  Or should I say adventure?
Wally began leading caravan trips around the world.  The first trip was from Texas to Nicaragua.  This was a grueling trip that saw only 14 out of 63 trailers finishing the trip.  Wally vowed never to do that again.
That vow lasted one year.  Realizing the opportunity to "field test" his units, he arranged many subsequent outings.  These outings would produce feed back from Airstream owners, who were eventually the only people invited on the trips. 
As you can probably guess, most of the "complaints" and ideas that were forwarded to the plant came from Wally Byam.  It has been said the plant manager heard from him more when he was on those trips, than when he was in the office.
As the caravans became more popular, the group formed an organization called the Wally Byam Caravan Club (WBCC).  Today it is known as the WBCCI and is still dedicated to the ideals that Wally set forth many years ago.

The Loss of a Legend and a Dear Friend
In 1962 Wally Byam passed away, after battling cancer.  It is said that he fought the cancer with the same zeal and tenacity that he lived his life.  Though I never met Wally, or was aware of who he was until recently, I have a deep respect for the him and his ideals.  He has made the RV industry what it is today.  
Many of his improvements and additions to the Airstream line have filtered over to other manufactures and are still in place today.  Probably Wally's greatest contribution was to the safety of RVs.  He was a big advocate of a uniform safety code and was instrumental in the formation of the RVIA, which sets the standards for the RV industry.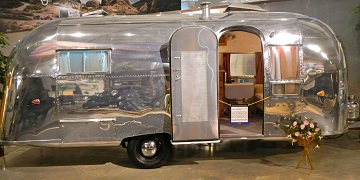 Thank you Mr. Wally Byam for making the RV industry what it is today!
Written By: Scott
Exploring Travel Trailers>RV History>Wally Byam