So...
Why Are You

 Exploring Travel Trailers?



We started exploring travel trailers early in our marriage.  We had taken a vacation down to Florida and our expenses were through the roof.  We both knew there is a better way to travel.  This is CRAZY!!  
Our reasoning came out of a highly expensive vacation, that for no rhyme or reason should we have ever spent that much for what we did. So we started thinking, and these are the reasons we came up with that helped us then and now in our travels.
Vacations
High hotel prices
High airline tickets or don't like flying
Rental car at the airport
Control over finances, especially when you retire

You sleep in your own bed
The great outdoors
Piece of mind
Relaxation
A place to call "home"
You can take your pets with you and your not charged a daily or nightly fee.

Tidbit: Did you know that this, number 11, is the number one reason why pet owners purchase travel trailers?

We love our travel trailer!  We've learned so much about it and would like to share our experiences with those who are interested in the RV world. 
Owning an RV is like having your own hotel on wheels!
You have the

freedom

of going where you want to go.
 The

versatility

of which kind fits your needs

The

choices

how you use it

are endless.  
The best part is, you are in control!
Vacationing With Your RV
Have you ever considered vacationing with your RV before?  I never once thought about it until I was introduced to the RV industry.  I always thought they were used just for camping, boy was I ever wrong!! 
The thing about an RV is everything from your budget to where you sleep is in your control.  Isn't that such a nice thought? 
"Home is where you park it." 
Isn't that such a great saying?
Hotels can be exciting at times, but they can also be very expensive, especially if you live on a budget and considering taking your fury loved one.
Vacations are meant for relaxation and family time, not thinking about how your going to pay for everything when you return home, or dreading that credit card bill at the end of the month. So here is one place where travel trailers are an asset. 

We have taken ours on many different vacations and we'd love to share those destinations with you.
We're also going to highlight some of the different campgrounds that we have visited.  These include some that we have traveled to on vacation or just for a short weekend camping trip.
On the road again...passing another RV on the left side
RV memberships
You can also get involved with many different RV Memberships that will help save money while you are traveling.  Depending on which membership you purchase depends on the level of different services that are provided by that particular dealer and plan.  There are many different memberships to fit an array of different lifestyles.  It really just depends on what you need. Take a look if this interests you.
Camping in the Great Outdoors
Camping is one of our favorite activities.  Just being outside, taking in the fresh air, and enjoying Gods gorgeous scenery is enough for us! We love to sit back and explore travel trailers when we are camping.   It is enjoyable to watch the different styles as they pull in around you.
You certainly can learn a lot about your family during this time as well.  Camping is now one of the most valued family vacations.  This turn around has happened in the past several years.

You'll find a variety of different people and RV's at you local campgrounds year round.  People go camping from the early Spring to the late Fall.  Some even live at the campgrounds, and get paid to do this.  You'll run into retirees, families having some Summer fun, and even some full timers who are taking in the retirement life.  There are even some who have been blessed to retire early... congratulations to them!

Others may "shop" for a camper while camping, and some people may even let you take a peek inside to see if  that's something that would fit your lifestyle.  You see, that's the joy of the RV industry.  Most people are very helpful, nice, and friendly, and it's rare to find a camper that isn't.
State Parks
State parks are always good for a long weekend.  Try to get in early in the busy months and Summer Holidays, they fill up quickly.  Especially if you would like full hookups, or what they call three point.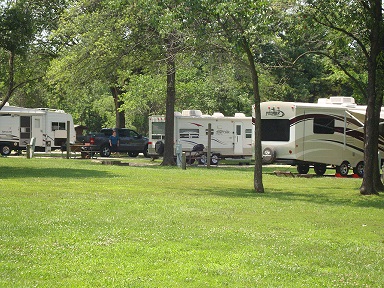 Beginners to Advanced
My husband, Scott, grew up with towable RV'S and he knows a lot about them.  He used to travel all the time with his family growing up, and has owned several himself.  In fact, at the age of 16 his dad gave him the keys to tow theirs home after camping at a local camp ground.  If that isn't intimidating, I don't know what is! 
My name is Melissa, and I grew up tent camping and knew absolutely nothing about travel trailers.  So our experience is a story that we will never forget!
We have certainly had some fun and interesting trips in our hybrid! We are going to share  some good advice as well as some tips that we have learned.  Hybrid's, or expendables, are in a class of there own! 

Travel Trailers in a Nut Shell
For those of you beginning your journey into Exploring Travel Trailers, below is some basic information on the different types of trailers you can research.

A travel trailer includes bumper hitches; pop-ups, expendables or hybrid, traditional or conventional, fifth wheels, and toy haulers.  They

can

offer all the amenities of home, no matter how BIG or small.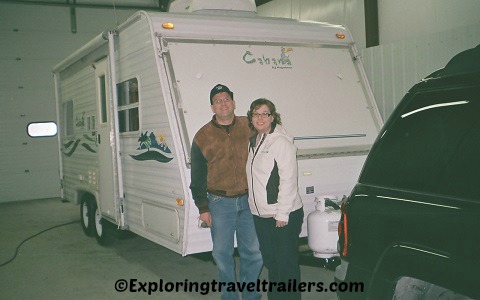 Expandable or Hybrid-Our First/Current RV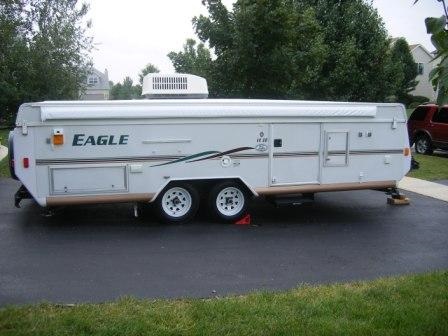 Pop Up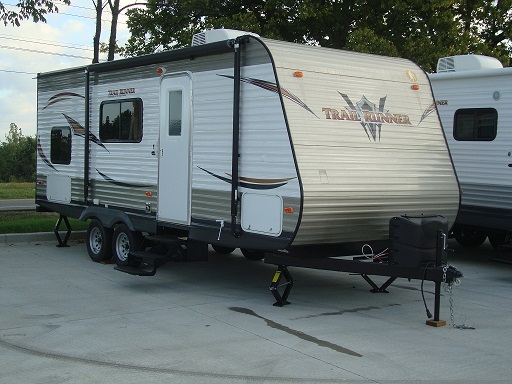 Traditional or Conventional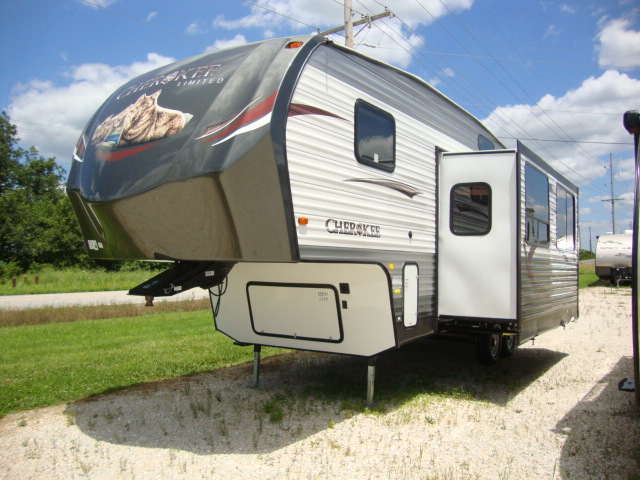 Fifth Wheel
Toy Hauler
Everyone must have a favorite, if you don't I'm sure you will shortly soon after you have done your research!  This depends on what type and style fits your needs. Shop around, as they are all unique.
For the first timers...
Considering buying your first RV? 
Here are some things to think about and look into before the BIG purchase. There are lots of things to think about before taking this BIG step! 
Rent before you buy

New or used
Learning to tow and appropriate tow vehicles
Initial cost and setup
Financing
Insurance
Storage offsite or home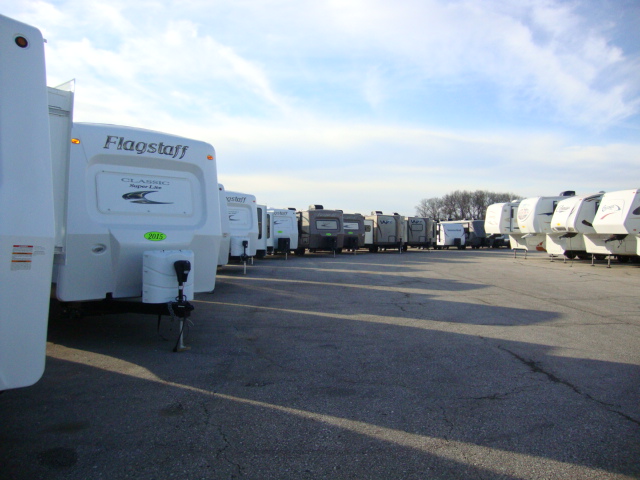 Maintaining your RV
Maintaining your RV is just as important as maintaining your vehicle or house. 
Be sure to do the correct maintenance each year, as each RV requires different maintenance. We'll show you how to maintain and keep up with your year to year updates and necessary items.  This will benefit your tow-able and keep it around much longer.
 Things to consider...

Furnace and Air Conditioning
Lighting
Refrigerators
Roof
 Tires
 Water Heaters
Winterizing for those cold months
The History of Travel Trailers
CALLING ALL HISTORY BUFFS!
If you're interested in RV history, then you have come to the right place!  We love history and together we'll explore from the early days to the present days.  Here are just a few of the many interesting  facts that we have found.  We hope you enjoy these historical facts with more to come!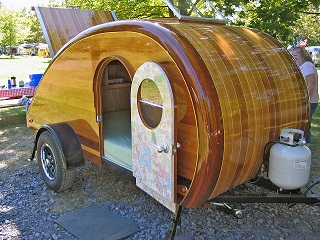 Home made Tear Drop
The oldest RV in the world is on display at The RV/MH Hall of Fame in Elkhart Indiana.  This is a 1913 Earl pulled by a 1913 Ford Model T.
The first Airstream plans were sold by the manufacture in the 1930's for a dollar each.
The Teardrop travel trailer first became popular in the 1930's when the plans were published in "Mechanix Illustrated".  (Believe it or not, this is how they spelled it in the 1930's.) 

Let's Travel Together!
We'd love for you to take us along as we all enjoy the life of RV ownership.  If you love to explore new things, then feel free to join us on our journey! 

Our names are Melissa and Scott and we love to write about our journey and Exploring Travel Trailers!  We both write the pages and share the responsibility of keeping our site up to date, and clean.  
Melissa, writes more of the "fun" pages about vacations, storage, and many other things.  She also takes care of the site in genera

l.  
Scott writes more about the technicality of our pages.  This includes, but not limited to, the units, towing, safety, and many other items.  You can rest assure the information that is posted here is accurate, current, and up to date to the standards of travel trailers today.
Thank you!
We want to thank you for taking your valuable time and looking at our site.  Our hope for you is to receive the valuable information that you are looking for as you explore the joy of travel trailers. See you on the other side, and happy exploring to all of our RV friends!

Written By:
Scott & Melissa