Outdoor Cooking
Outdoor cooking is one of the best things about camping. Not only do you get to enjoy the great outdoors, but also can enjoy some great family time. 
There is nothing like cooking over an open fire and enjoying some campground activities on the side with your family.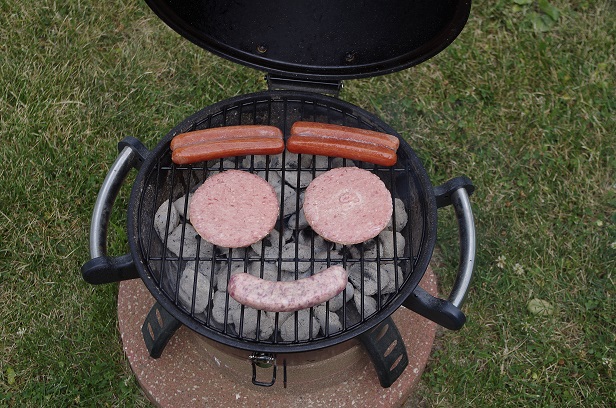 Outdoor cooking also has its benefits when vacationing with your RV.  Instead of having to eat out every meal you have the luxury of making your own meals at your campsite.  This can save you a lot of money and be very beneficial to your budget at the same time.  
Outdoor Cooking Basics
If you are not used to cooking outdoors, or are just beginning this process, it can be  little tricky at first.  So start out with the basics and work your way up.  Roasting hot dogs over an open fire is a good way to start.  Marshmallows are always fun too!  Kids have a blast taking part in this activity.   Although, first things first is knowing how to start a campfire in your fire pit. 
Many people like to cook on a BBQ pit too.  You can find small BBQ pits that travel well even for smaller campers.  Some campers even have outside kitchens that can help with your cooking outdoors.  You always have the luxury of cooking indoors as well, if you run out of room or the weather is not cooperating. 

You can find hot dog forks and marshmallow forks at any local retail store or camping store. We own both of the ones listed above, and from experience, they work great!

Tips and Tricks - Over the Campfire Cooking
The first thing you want to do is make sure you have good hot coals for cooking on.
If you are planning on using a grate, that is in the fire pit, make sure you have it set at the correct setting.  We recommended using tin foil on the grates that are supplied at the campground.
You will need to pay closer attention to your food as it may burn quicker than your typical BBQ.
Watch any handles or metal items that may be sitting on the grate, as they get very HOT.  Have an oven-mitt handy when you need to take things off of the fire. 
This is a good time to boil any water you may need for dishes or anything else.
Tips and Tricks - BBQ Cooking
Hot coals are a must for BBQ cooking too.

Be sure to have everything in arms reach before you start your cooking.  This makes it a lot easier to cook your meal, especially if you have to go in and out of you camper.
Your camp stove may come in handy for some things here as well; be sure to have plenty of propane available.   

Time Too Relax & Enjoy
If you are looking for a quick meal, outdoor cooking is not the way!  This takes more time than using your stove and or oven in your camper.  This type of cooking can be very relaxing and even experimental, especially for the first timers. 
You could even add some romance to this by lighting a few Coleman Citronella Candles to keep the bugs and intruders away! 
Just remember, even if the first thing that comes off the fire or BBQ pit is a little charbroiled, you'll just have to try again!  The best thing about campfires and cooking, is you get to practice, practice, practice, and then ENJOY!  

Written By: Melissa
Exploring Travel Trailers> Outdoor Cooking