Advertising Disclosure Policy
When it comes to Exploring Travel Trailers, we know the in's and out's of them.
We know what products work, what don't, and what could work for other's but maybe not for us.  Certain products work with certain trailers, and not everyone needs things that we may need or that you may not be interested in.

As part of our service to our Travel Trailer Friends and Visitors, we like to recommend products that we have used, tried, or maybe didn't  work for us, but may work for you.  Rest assured, we will only recommend products that we believe will be beneficial to our Travel Trailer Friends.

If we have purchased from a particular company  listed on this website, that means we have a loyal trust in them and wouldn't guide our Travel Trailer Friends in the wrong direction. 
You see, customer service means the world to us and we stand by that.  If a company has treated us wrongly, we will not recommend that company.

Some of these companies offer an "Affiliate Link", which we are member's of.  This simply means that we gain a small commission if a Travel Trailer Friend clicks the link and purchases.  Please understand, the price you pay for the product is the same on either our website or the retailers website.  However, it is your choice if you choose to go directly to the retailers website,  and purchase directly from them.

We certainly thank you for that small commission, so we can continue giving our Travel Trailer Friends the prudent information they expect.  After all, exploringtraveltrailers.com requires a lot of time and energy to produce.

How Much Do These Fees Cost You? 
There is no fee to our loyal Travel Trailer Friends! 
You Pay NOTHING for this service!

Not every company has an affiliate, so the products that we suggest we do not make any money off of, it's simply  a product that we thought our Travel Trailer Friends would enjoy. 
If there is an "Affiliate Link" associated with a product, there will be a statement listed on the page.

Companies That we work with

Solo Build It!

Campgroundviews.com 
Vintage Trailer Supply, Inc. 
Vacations Made Easy 
Shareasale.com
Cabela's
RV Share
Questions, Comments, Concerns?
If you have any questions regarding this, please feel free to contact us and we'd be happy to answer any and all questions you may have.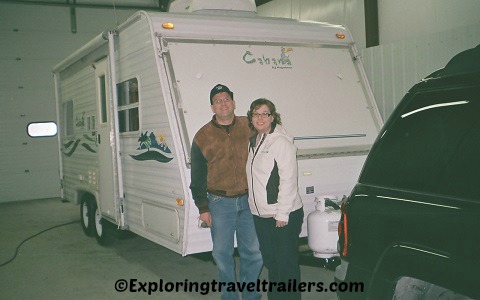 Thank you for your support!

Melissa & Scott

Exploring Travel Trailers> Advertising Disclosure Policy