Popup Travel Trailers
Popup travel trailers are a great entry level choice for people who want start exploring the RV world.  Popups are generally the smallest and least expensive class of travel trailers, they are a good option for anyone looking for a small travel trailer. 
The smallest popups can easily be towed behind a small car, truck , SUV, and even motorcycles.  There is no need to purchase a special vehicle for towing them, unless the weight of the trailer is higher than the allowable towing capacity of your current vehicle.
Check the gross vehicle weight of the trailer you are looking at and the allowable towing capacity of the vehicle, that you plan to use to tow it with, before you purchase.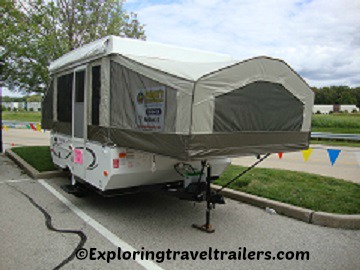 Another feature that make popups so attractive is the ease of storage. These units are lowered, when not in use and can easily be stored in a standard garage.  This makes it convenient for folks who live in residential areas that have restrictions on recreational vehicles.
Of course, like anything, there are drawbacks to owning a popup. They are best suited for weekend camping in warmer weather, due to their construction. They can be used for traveling, but are inconvenient since they must be set up and torn down at each overnight stop.
Most have soft walls made of vinyl, canvas, or similar materials that can be easily ripped and can become moldy if stored when not completely dry.  They also require more maintenance than the other classes of travel trailers, because of the walls and mechanisms that raise the sides of the unit.
You will want to consider all the pros and cons listed here and on other resources as you explore popup travel trailers.

Various Types
Popup Travel Trailers

The RV industry has always evolved and adapted to match economic conditions and consumer demands and popups have certainly done that.  Today there are several styles of popups on the road.
Soft Top
The first style is the soft top "tent camper".  These trailers can be as small as a 4'x 8' box, weighing less than 700 pounds, with a full tent that folds out and needs set up with poles and stakes.  Others resemble the more popular hard top.  These trailers require the most setup time they might have a small dinette and usually have canvas uppers.  This is the original popup and has been around since the early 1900's.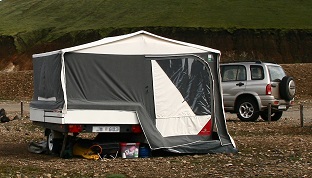 Courtesy: Combi Camp UK
Hard Top
The hard top is probably the most popular of this class.  They exploded on the scene in 1968 when the Jayco Corporation first introduced them.  They were an overnight success.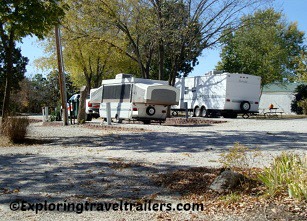 Jayco Pop-Up
As the name implies, the main roof is a solid fiberglass cap, which acts as a shell when closed for travel and storage.  These are available in box lengths between  8' and 18' and extend to 30' when fully erected.  Most have a hand crank or electric motor to raise the top and have vinyl material for the sides and wings.  Some have small kitchens, toilets, and showers.   Check the different manufactures for different options in each popup.  The weight of the hard top can be as high as 3500 pounds.
Hard Side
The Apache hard side trailer was introduced in the early 1970's and resembled the hard top, with fiberglass side wall panels, instead of canvas or vinyl,  that have to be installed after raising the roof.  Apache Corporation is no longer in business, but the concept has remained and is being produced by other manufacturers.  The main advantage is better insulation, with the main disadvantage being that they are not as easy to set up and tear down as other popup travel trailers.
Hard side popup travel trailers first appeared in the early 1960's when Hi-lo introduced their collapsible travel trailer.  It was a camper that lowered for traveling and raised when in use and falls in both the popup and hybrid  categories.  The Hi-lo Corporation closed shop in 2010. However, Trailmanor Corporation, which opened in 1983 and has the same concept, is still in production today and has units as long as 31' with weights as high as 5000 pounds.
Some of the advantages to these are that they have the same construction as a travel trailer, come in longer lengths than other popups, can be lowered for towing to reduce wind resistance and increase fuel mileage, and are easy to set up. Their disadvantages include the electric/hydrolic motor used to raise the upper part of the trailer can fail, limited storage compared to the traditional travel trailer and the bathroom doors are solid on the bottom with a curtain on the top.
Written By: Scott
Exploring Travel Trailers>Types of Travel Trailers>Popup Travel Trailers