Conventional Travel Trailers

Eighty percent of all trailers sold are conventional travel trailers.  These units can be seen everywhere. 
Travel trailers, as they are commonly called, are a good alternative for people who are looking for a reasonably priced camper, but don't want to mess with setting up and tearing down popup travel trailers. 
They are very popular with families and come in a variety sizes, weights, floor plans, with or without sliding rooms, and have sleeping accommodations for up to as many as ten people.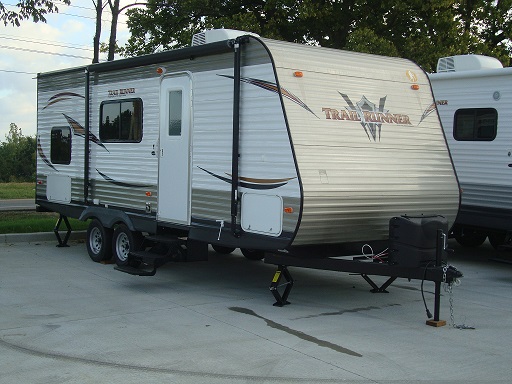 The best part about these travel trailers is their versatility.  The lightest trailers can be towed behind today's smaller trucks, vans, and SUV's. 
Those folks with heavier vehicles, like 3/4 or  one ton  trucks have a whole host of options to choose from here.
Before you plan to purchase, check the towing specifications of the vehicle you plan to tow with and have that information ready to present to the sales person you speak to, so they can match the trailer size to safely meet your needs.

The most commonly towed sizes of conventional travel trailers range between 15 and 35 feet, however; there are some units that are smaller than 10' and others that are larger than 42' .  These larger units are termed park models, are rarely towed, and closely resemble mobile homes.

Most travel trailers are "houses on wheels", with all the comforts of home.  They are usually equipped with full kitchens featuring stoves/ ovens, microwaves, sinks, and refrigerators.
Their bathrooms usually have a toilet, bath tub and/ or shower and small sink.  Now days air conditioners and awnings are pretty much standard features along with the furnace and water heater.

Small Demand
Not everyone wants larger travel trailer.   With today's higher gas prices there is a huge demand for smaller and lighter travel trailers. 
This desire for small travel trailers is nothing new, however; throughout the history of the recreational vehicle industry, smaller travel trailers have been highly sought after.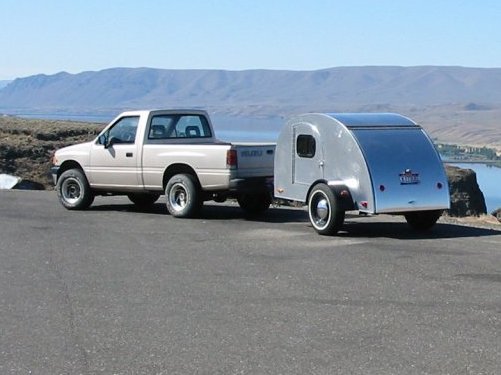 The American Icon, Airstream, was primarily focused on building smaller trailers from it's founding in 1936 through the mid 1970's.  These were very popular units, especially between the late 1950's and mid 1970's.  
Thanks to the fuel crisis of the 1970's a new demand was launched to lighten all travel trailers.   Jayco led the charge in the early 1980's with their "Featherlite" series, others soon followed.

Today there are many choices out there from many different manufacturers.  Some of the choices include Scamp, Egg Camper, and Casita,  to name a few.  Some are basic sleeping units with no bathroom, while others are fully equipped "houses on wheels".

All  the "big name" manufacturers like Heartland, Forest River, and Jayco have their small lines, too.  Take some time to explore the various small conventional travel trailers and you'll find many options and set ups that will meet anyone's needs and desires.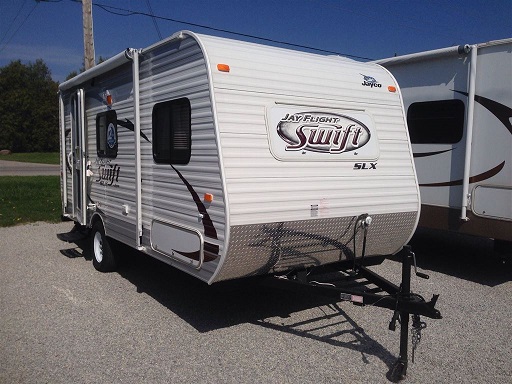 Warm and Spacious Ideas
Today's travel trailers can be purchased with two popular options that have improved the quality and comfort of your trip.  Whether you use it for a weekend camping trip, vacationing, hunting, or full-timing.  These two very popular options are the slide out room and the year round insulation package.
Slide out rooms, or slide outs as they are commonly called, became a very popular option in the late 1990's and for good reasons.  This option really expands the living area of your trailer.  Today's conventional travel trailers can be found with up to three slides.

The most common extensions on slide outs are two and three feet and come in varying lengths.  They retract for traveling and do require periodic maintenance to maintain proper operation.
The year round insulation package allows for use in colder climates and seasons.  Also known as the "Polar" and "Arctic" packages, they are as well insulated as a today's mobile homes and feature heated fresh, gray, and black water tanks.
This option is good for anyone wanting to use their trailer to travel full time, winter camp, as a hunting cabin.  They provide plenty of warmth and comfort in the winter, but also are excellent in the summer during extreme heat, allowing the coach to stay cool without overworking the trailer's air conditioner.

For our friends who love ice fishing and want a mobile hut, their are many manufacturers who produce travel trailers designed for this purpose.  Some are equipped with a kneeling feature that will lower your floor to the ice and removable cover plates for your fishing holes.

Conventional Travel Trailers
A Trailer For Anyone

Conventional travel trailers are worth checking into if you are looking for a unit with a ton of choices and features. Whether you want a small lightweight trailer or long unit with plenty of space to move around in, give these units a look while you are exploring travel trailers.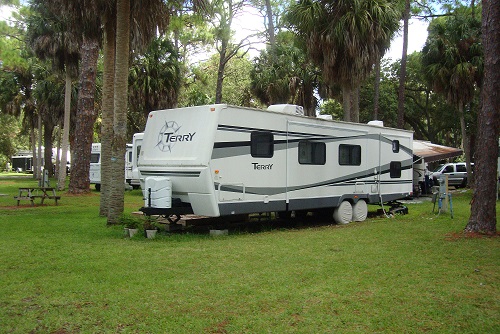 Written By: Scott
Exploring Travel Trailers>Types of Travel Trailers> Conventional Travel Trailers