Hershey Pa

We were sitting at the intersection of Chocolate and Cocoa Avenues in Hershey Pa, on a sunny June day. The street lights were alternating wrapped and unwrapped Hershey Kisses. For me, this was a sweet (pardon the pun) homecoming.
I was born, raised, and spent the majority of my adult life in this area. But I got a double blessing on this trip, as it was Melissa's first time in Hershey, so I also got to enjoy a first timer's view too.
A Little History

Hershey Pa is a village located in Derry Township of Dauphin County.

It is 13.7 miles east of Harrisburg Pa, the state's capitol

It was founded by Milton S. Hershey in the early 1900's.

Today it is one of the top vacation destinations for families nationwide.
Milton S. Hershey - Before Chocolate

Milton S. Hershey was born on September 13, 1857 in Derry Church, Pa. Due to the constant movement of his family, he only received a fourth grade education. He entered into a four year apprenticeship with a candy maker in Lancaster Pa. His first candy making business in Philadelphia Pa ended in failure.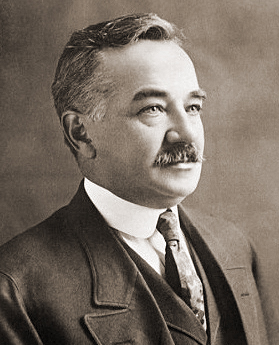 Milton S. Hershey (September 13, 1857–October 13, 1945) Courtesy of Wikipedia
He returned to Lancaster in 1883 and launched his first successful business, the Lancaster Carmel Company. You may recognize the brand name, The Hershey Corporation revived the brand several years ago.
However, M.S., as he was known, had developed an interest in chocolate making when he saw a German chocolate making machine at the 1893 Colombian Expo.   

Hershey purchased the equipment and used it at his Lancaster plant until he sold the company in 1900. After selling the company, he worked on making a milk chocolate product that he could market to the American public at an affordable price. After three years he perfected his product.

Returning to Derry Church in 1903 (present day Hershey Pa), he purchased land and built the Hershey Chocolate Factory, which opened in 1905. The Hershey milk chocolate bar became an instant success and remains a world wide icon to this day.

Hershey Pa, The Town Chocolate Built

M.S. viewed his new found success with a duty to make the lives of those around him better, a view that came from his strict Mennonite upbringing.
He desired to build a town around his factory for those he employed, but did not want his town to look like the drab towns built by the steel companies of his day.
His plans included tree-lined streets, nice brick houses, good public schools, recreational areas, and a public transportation system that is comfortable and affordable.
With the exception of the public transportation system, many of the town's amenities that were built by Mr. Hershey are still standing today.
In 1907 the most popular attraction in Hershey Pa was opened. Hershey Park was set up for the recreation and amusement of the employees of Hershey Chocolate, their families, local  residents, and visitors.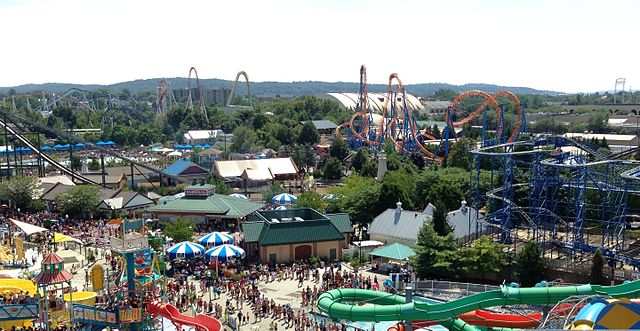 Hershey Park-Courtesy of Wikipedia: Paul Ordoveza
The park was located on Spring Creek, just slightly north west of where the factory was located. It had a penny arcade, a world class carousel, a large wooden roller coaster, and many other rides and attractions.
Today the carousel and roller coaster (the comet) are still in operation. The comet is still in it's original location, but the carousel was moved to higher ground away from Spring Creek, where it was when my Grandmother used to flirt with my Grandfather in the 1920's. 
1929 was the start of the Great Depression. While many in the United States were in dire straits, anyone working for Mr. Hershey, including my Grandfather, still had a job and enjoyed a steady paycheck.

I asked my Grandfather about living through the great depression for a school project and his words were...
"It didn't affect us, Mr. Hershey made sure we always had work."

At a time when most businesses were failing, he increased business, built a grand Hotel, a community theater, and expanded the public transportation lines.
Today Hotel Hershey is a five star hotel, providing luxurious rooms, world class dining with food prepared by master chefs, and a spa that is second to none.

Hershey Today
Many things have changed in Hershey Pa since I have moved away from there. Gone is the original factory from 1905, as well as a few other sites that I have known over the years. In contrast, many new sites and attractions have been built and opened.
Hershey's Plant- Courtesy of Wikipedia
Even though the strong smell of chocolate is gone, you can still catch a small whiff of it in the air from time to time. Hershey Chocolate USA, moved the production of the Hershey based facilities to new factories on the west end of town.

Vacationing in Hershey PA
Today, Hershey still has a lot to offer visitors and is a very popular vacation destination. 
As of 2020, Hershey Park has been open for 113 years. It ranks among the top amusement parks in the United States. With thrilling rides and popular shows, the park remains the most popular attraction in Hershey Pa.

Right next door to Hershey Park, is Hershey's Chocolate World, which houses a free ride showing the chocolate making process. I was slightly disappointed in the ride, as it had been updated since I was there last and I felt many important parts of the process were removed. However, it is still very informative and interesting.
Chocolate World also includes the opportunity to make your own chocolate bar, a large gift shop , and other attractions.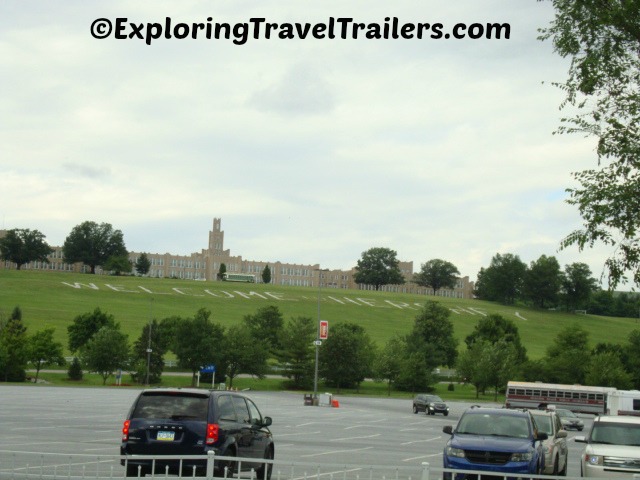 If you ever wished you could just bathe in chocolate, and you know who you are, your wish is granted! The Spa at Hotel Hershey has many chocolate skin treatments, including a full chocolate body wrap.
After that enjoy a meal at one of the Hotel's restaurants. As I remember the food was excellent!

Other attractions include...
The Hershey Rose Garden
Zoo America
AACA Antique Automobile Museum
The Giant Center Arena
The Hershey Story Museum
Indian Echo Caverns in nearby Hummelstown

Check out Vacations Made Easy to help plan that next Hershey, PA trip! It's a very helpful guide in planning either a weekly or day trip! Type in the search box to search for the city and it will guide you to your next Hershey, PA vacation.
Hershey PA - Fall Attractions

In September, Hershey hosts the fall RV Show and Sale. You can view literally thousands of RV units, all set up on the parking lots of Hershey Park and Giant Center. This is the largest RV show in the country. I found a video tour of the show. It is 41 minutes long, but very well done.
I have been there many times and I think it is one of the nicest shows in the United States. I am not alone in this belief, this show has been featured on multiple TV shows, including a RV show that can be compared to HGTV's House Hunters. 

Another fall attraction that I love and miss, is the Hershey Antique Auto Show that takes place every October. Antique cars and visitors from literally all over the world, converge on Hershey park and Giant Center.

The show runs from Wednesday through Sunday. There is a large flea market featuring antique cars and parts, food stands, and a car corral with antique cars for sale. 
Saturday is the big day when the show cars are driven in a parade, shown, and judged. You don't want to miss this part!

Accommodations for you and Your RV

When traveling to Hershey Pa with your travel trailer, there is no shortage of campgrounds in the local area.
If you want to stay in the heart of Hershey, you can stay at the Hershey Park Campground (formerly Hershey High Meadows). Resort provided transportation is available if you choose to use it.
There are many other campgrounds available in a thirty mile radius of Hershey.
Campgroundviews.com also offers a great alternative. You can search, see, and book your camping spot!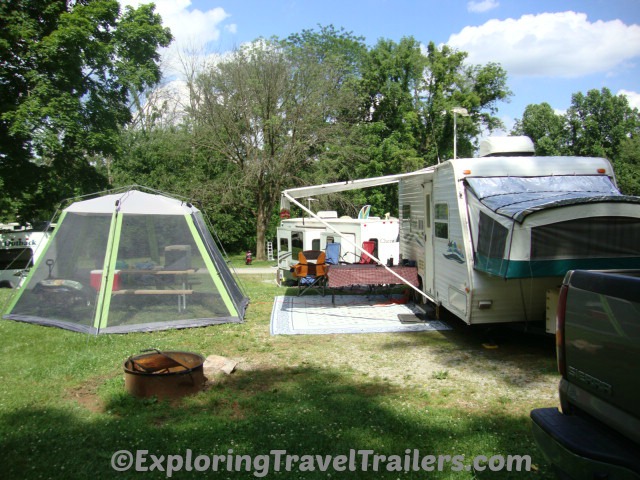 Thousand Trails Hershey PA
On our trip, we used Thousand Trails Resort - Hershey. We enjoyed the park immensely. The sites were spacious and clean and the staff was generally very pleasant and helpful.
The amenities included mini golf, a nice relaxing pool, fishing lake, hot tub and a well stocked General Store. We used them ALL!

The biggest drawback we found was that even though we had reservations made in advance, they did not assign us a specific site and we had to search for an available site that included water, electric and sewer or three point.
These sites are limited and go quickly, I advise trying to schedule your arrival during the middle of the week if possible.  We know for some, it's difficult!

The Sweetest Place on Earth

Hershey has been called the sweetest place on earth and with good reason. It has grown into a resort town built on a chocolate theme. But chocolate is not the only game in town. 

As you can see, there is something that will satisfy almost any type of interest you might have.
Other Attractions
Another sweet deal is that you are within driving distance of many other attractions, such as Gettysburg, Pa, Amish Country, and Philadelphia Pa.
So if you are looking for a vacation destination that will leave you with some sweet memories, I invite you to visit my former stomping grounds in Hershey Pa.
Melissa Tidbit: "I had a blast, learned so much and can't wait to go back and see more of where my hubby grew up!" 

Written by: Scott
Tidbit: Melissa

Exploring Travel Trailers> Vacationing With Your RV> Hershey PA