COVID-19 & Camping
So, I'm sure everyone has heard about this new outbreak by now called COVID-19. This is unfortunately not a fun thing to talk about or even write about during this outbreak in the world.
It has caused a lot of bad things to happen to people, and unfortunately we've lost many people due to this virus.
This page is not your typical fun page that you would normally see for an RV and camping website, this is more for informative information for anyone who is interested in basic information when it comes to using your RV for the Spring, Summer, and Fall of 2020 and beyond.
COVID-19 & Camping
in 2020 and Beyond
Since we are on the "informative" side of this we have received a lot of information on this in regards to camping this year and we wanted to share some of that with our readers.
I'm sure you have heard that COVID-19 has caused many, many, parks and recreational facilities to close down until further notice. 
This includes National Parks, State Parks, and Private Parks.
The Army Corp of Engineer Parks are closed nationwide. 
To include some lakes as well
This certainly puts a damper on the full-timers out there.  With all the parks closing, they have no place to go.
Many of them are having to overnight at Flying J, Wal-Mart, and other retail stores  that allow overnight RV parking.  It's really sad to see them in such a bind, as they have no place to call home.
The saying "Home is where we park it" really is true for them.
A petition has come up for full-timers and campers to sign to keep the parks open courtesy of Truck Camper Magazine.  If you feel led, please sign to keep the parks open.  (This petition has closed)
This petition has been up for a while, but we've recently just heard about it.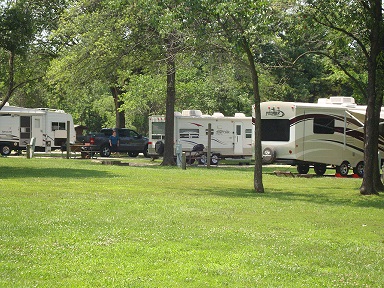 In fact as of 4/11/2020 43.8% of parks that offer camping are closed dues to COVID-19.  
43 out of 50 states have closed or have delayed opening for the 2020 season.
"The above information is courtesy of Campendium website."

I'd like to share that website with you as well, Campendium.com.
They have created a great resource for COVID-19.  It tells you ALL the parks that have closed or reopened by state.  They did extensive research on this and it has been put together so well that I had to share this information with you.
Please check back periodically for any parks that may have opened up recently due to some states reopening.
COVID-19 information changes daily, hourly, and by the minute. I'm sure all are aware of this, but please keep this in mind if you are planning a trip in the near future.
Be sure to contact the park directly if you are considering taking your RV out, to make sure they are open and if they have any "New Rules" they may be applying for COVID-19.
RV Industry Stepping up
So during  this pandemic, the RV Industry has stepped up tremendously to help those in need.  Especially for the front line works in the hospitals.  Take a look at the article listed below.
What can you do in the meantime?
Well, for starters, Stay safe and WELL! 
This is nothing new though...keep your distance, wash your hands, and stay home the best you can. I'm sure everyone has plenty to do at home, don't we all?
In the meantime, this is a great time to maintain that RV so when we can all finally go out and enjoy this beautiful country, you're ready to go!  I think we'll all be ready when that time comes!  
Just beware though, parks may be very busy after all this, so plan accordingly!
Praying for our loved ones
For those of you who are caring for the sick ones that have been on the unfortunate side of this, please note that we are praying for you and your family.  Our prayer is for you to stay healthy during this time and for your loved one to come out of this so you can enjoy your life and RV trips together again.
For those of you who have lost your loved ones, we are so very sorry.
Our prayer for you is to keep your strength, and keep going, even though it is very difficult. We pray you can get through this and move forward with your life and keep that person close in your heart with you.  
Till we meet again, on the camping trail...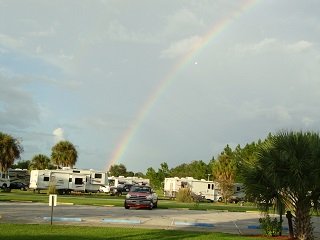 Thousand Trails-Orlando Florida
Written by: Melissa
Exploring Travel Trailers> COVID-19