Toy Haulers
Toy haulers, also known as sport utility recreational vehicles (SURVs), have become increasingly popular over the past several years.  These units allow the owner to take motorcycles, ATVs, golf carts, etc. along without the need for another trailer.
SURVs, in their simplest sense, are an RV with a living compartment and a cargo area.  Most of these units have an enclosed cargo box with a drop down ramp door.  Some have a hard wall between the living quarters and cargo hold.  Today there are several trailers, mostly in popups, that have open decks for transporting what ever you want to take along. 

Not Your Father's RV
Toy haulers first came on the scene about 2003-2004, in response to popularity of the sport utility market.  These trailers were built primarily to attract the younger more active generation, who enjoy taking their "toys" in the deep outdoors, to the world of travel trailers.  Most are built with heavier frames and suspension components.  This is not only to carry the extra weight of ATVs or other toys, but also for camping off pavement in the deep woods.
The first generation started out as a conventional travel trailer, with few options, that had a ramp door in the rear.  Eventually, families saw how versatile these units are and became more interested in purchasing them as well.  As a result, manufactures increased the amount of options and variety of floor plans to accommodate the tastes of their potential customers.  Some units include drop down beds and a half bath in the garage area, for added convenience.

Today these units are found in every style of RV from popups to drivable units.  They are equipped with a variety of features, designed for your comfort and convenience.  SURVs range in price from around $15,000 to well over $300,000 depending on style and options.  They can be found in lengths from about 20' to more than 42' and feature various cargo weights.   

Do Your Research First
Purchasing an SURV involves several additional considerations that are not involved in other travel trailers.  Since these trailers are designed to house motorized vehicles, along with human occupants, those wishing to purchase one should spend extra time in exploring this option.  Here a few suggestion to aid you in your decision.
---
Determine what you will be hauling in your trailer. 

Know the weight of your cargo.  This not only includes your "toy", but also the weight of any water, clothing, people, etc. that will be in the trailer. 
This is important, because many people have mistakenly over weighted their unit by assuming the cargo weight only meant the vehicle they are hauling. 
Placing too much weight on on your unit will speed up tire wear, break undercarriage bolts, ruin the suspension, and affect the handling of your tow vehicle.

---
Know the towing capacity of your chosen tow vehicle before deciding on the unit you plan to purchase. 

Having a tow vehicle that is more than adequate to handle the load will enable you to safely tow your toy hauler down the road.  It is a good practice to match a trailer with a lower gross vehicle weight than your tow vehicle is rated to carry.  The reason for this is that as your vehicle ages, the weight it can safely carry is reduced through wear and tear from use. 
Proper maintenance can prolong this problem from happening, but many people do not take  that into consideration and end up on the side of the road needing assistance with a broken down rig.

---
Research the manufacturers you are interested in checking out. 

Find out what are the common complaints and issues.  See if they stand behind their product and how they handle warranty claims.
One of the best ways to do this is to get on  toy hauler owner's forums.  There are several out there and they can give a glimpse into whether a given brand should be considered or avoided.  Don't use this as the only determining factor, however; it is only a barometer and should be treated as such.
Checking with the BBB, researching court documents for lawsuits, and talking to current owners  can help shed light on whether the unit you are considering is a good purchase or not. 

Considerations Before Purchasing a Toy Hauler
While you are doing your research, you will also need to look at your personal  needs and desires.  Some of the items you might want to consider include; where you'll use your trailer, what kind of weather you will use it in, your preference of trailer type, and your budget.
If you are planning on purchasing a used toy hauler, carefully inspect the trailer from top to bottom.  One of the first things to check is the suspension for signs of wear from overloading and abuse from being taken in the back woods.  Another thing to watch for is loose and broken bolts as well as rips in the undercarriage.  Finally, check for normal damages that occur on RVs like soft roofs and floors, improperly operating appliances, and other problems that occur from use and age.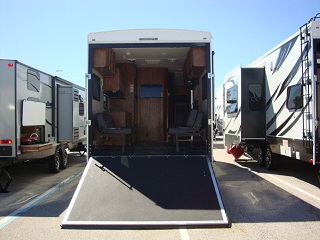 Great for Active Families
An SURV can be good investment for an active family or anyone who enjoys getting away from it all, but wants to take a few toys along.  The "garage" is a great place to store extra items needed for a long trip, toys for the kiddos, coolers for long day trips, or even bikes. The flexibility they provide and extra cargo space makes them a desirable choice and worth considering.  By taking your time to do a little extra homework, when you are exploring toy haulers, you can be assured of finding a unit that will provide you with many years of fun and good dependable service. 

Written By: Scott
Exploring Travel Trailers>Types of Travel Trailers>Toy Haulers