Campground Activities

Campground Activities enhance the family connection and enjoyment of relationships. Who knew sitting around a picnic table snacking or playing a game of Frisbee would be so beneficial for families!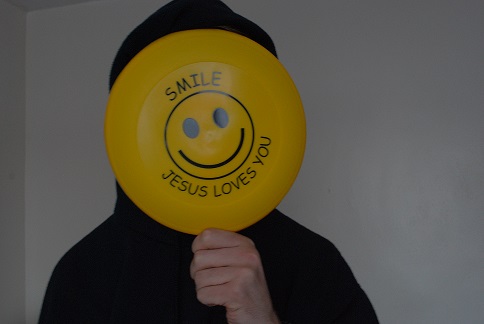 When you are on vacation, and are taking a break from the hustle and bustle of your family trip, often times it is nice to kick back and enjoy your campsite and the array of many Campground Activities campgrounds have to offer. 
Maybe you'd like to take a little hike, swim, or relax in the Jacuzzi for a bit.  (Yes some resorts have Jacuzzi's!) 
Take a bike ride and see the sites in and maybe even around the campground. 

Take a jog up to the camp store to sneak in that evening ice cream treat!  Don't worry about the calories, you'll burn them off when you head back!
Hiking

One of our favorite Campground Activities is hiking around the campground.  Whether we decide to actually go on a hike in the forest or just walking up and down the different roads taking a look at the different travel trailers everyone has.  Either way, you are getting plenty of exercise and you're taking in God's scenery.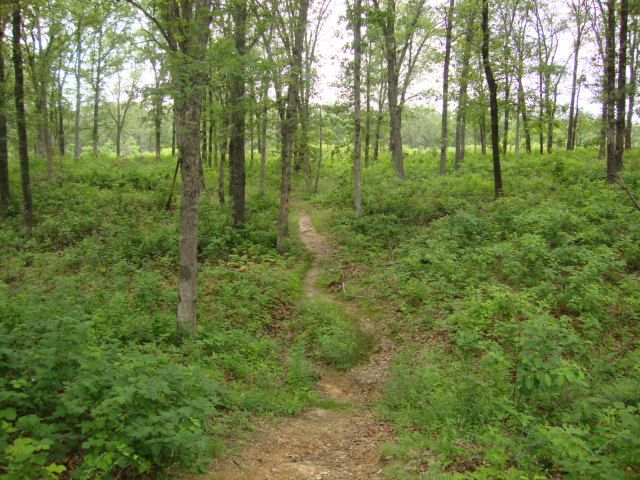 Hiking at a local campground
Remember to have  the correct clothing and shoes when you take a hike in the woods. 

Also, be aware of the animals and insects too. 

If you plan on going on a long hike, don't forget a bottle of water  to stay hydrated and the OFF insect repellent.  Ticks are especially bad in the Summer months.
Remember to leash and treat your dog too.

Happy Trials!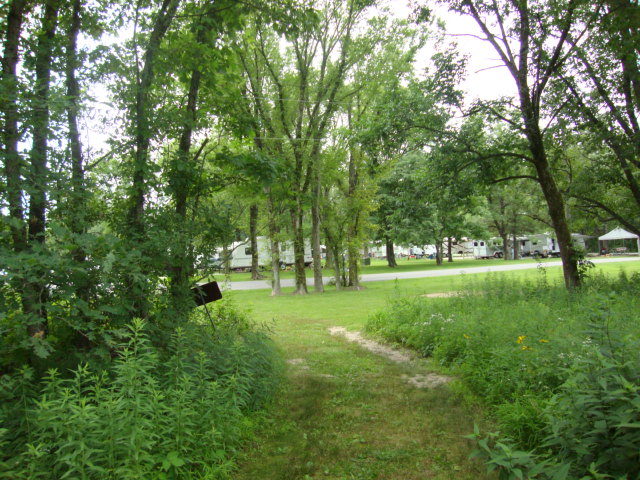 Of course, there are those of you who own dogs, and we all know they all LOVE to go on walks!  Scott has owned several dogs in the past, and he enjoyed this ever so much. 
Walking them, or them walking you-whichever the case, is as much enjoyable as watching them pass by your campsite.  I believe that this is probably one of the most enjoyable campground activities for dog owners.
Please be aware of the rules and regulations of dog ownership at any campground.  Dogs must be kept on a leash at all times, and owners must pick up after them.
On a recent camp-out, our camping neighbors had a dog and they were on "strike three" with him, as they did not keep the dog on a leash.  At this particular campground, he would have been asked to leave if this happened for a third time.  Campgrounds have rules and they must be followed.

Tidbit: Did you know that pet ownership is the number one reason why most people get into RV/Camping ownership?  It's great to be able to take whatever type of pet you own with you.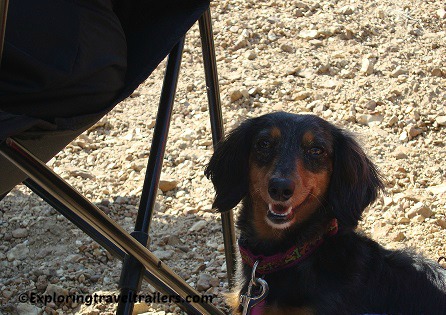 Meet Stella-my brother's family dog
Recreational Biking
Biking is a fun activity for both kids and adults.  The best thing about this Campground Activity is you can participate with your children and still have the bonding time they need with you.  It also keeps you on your toes while they are still learning to ride at a young age!  Some campgrounds will even rent bikes to you.

Be sure to watch out for those who are biking, and not paying attention, when you are backing your trailer in or driving.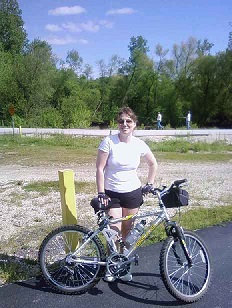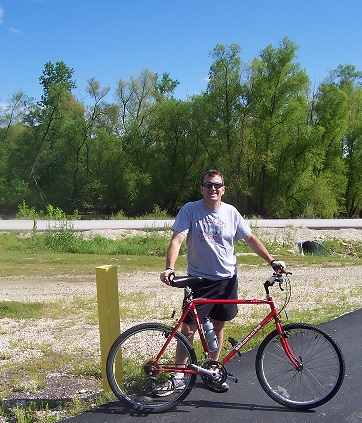 Swimming & Jacuzzi Time

Two words everyone loves, well, most everyone!  Most kids love to swim and it certainly is a great time to help them with there skills in the pool or lake.  Some campgrounds have lakes that you can swim in, so this is a plus!
I mention the Jacuzzi because the private parks, like Thousand Trails Resort, have the campgrounds that do offer things like this. Obviously, your state parks do not. 
Boating & Fishing
If you love to either boat and or fish, finding a campground that offers both is a plus.  It's a pleasure to be able to walk over in the evening and be able to throw your line in the water or take a rental out on the lake for a leisure ride after dinner time. 
This is great bonding time for everyone in your family!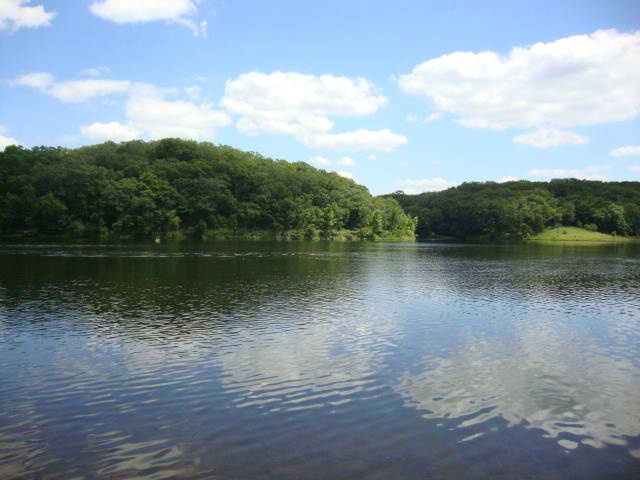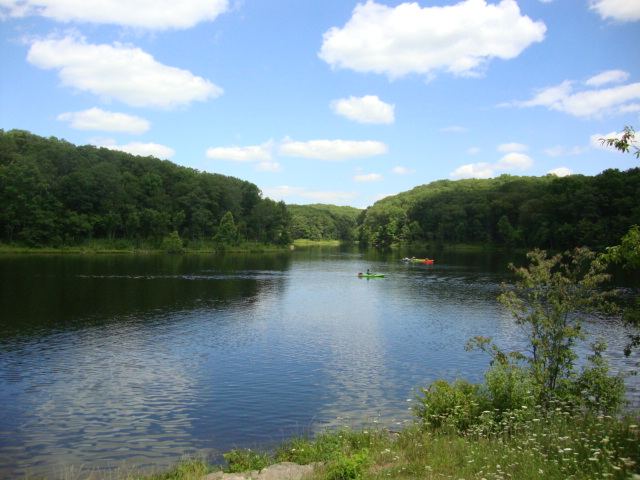 Leisure Campground Activities

Leisure Campground Activities include anything that you may bring from home or things that are already set up at the local campgrounds. 
Volleyball and badminton are two games that we happen to see quite a bit at campsites.  Some campgrounds offer Tennis and other well known sports that offer places to play. 
Most campgrounds offer a playground for the little ones  as well.  If they don't have an "official" playground you can normally at least find a field to play in.   

Campfire

The evening campfire is probably the most well known Campground Activity for camping.  People love to just sit around and talk about the day and enjoy the fire.  Of course, you can't forget about having a hot dog or toasted marshmallows either! 
For those of you who haven't experienced this activity, be aware of the raccoons that like to venture up close to people at night.  The blessing is, they don't like fire or light, so they pretty much stay away.  However; if you see one on an evening you are bound to see another the next night. 

They tend to make there rounds at the same time each night, and they are looking for you to leave your food, coolers, and things like that out so they can enjoy a "camp-out" as well. 

If all else fails, and you don't have room in your camper, lock them up in your vehicle.  We have done this before after our coolers were knocked down from the picnic table by a raccoon.  The sad part is...they took off with the chocolate doughnuts!  The good part is, they were not feeling so hot the next morning since they are not supposed to eat chocolate!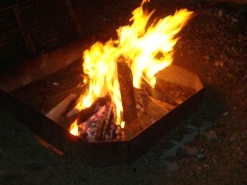 Campground Host Activities

If you are staying at a privately owned campground, sometimes the campground hosts will offer Campground Activities during your stay. 
We recently stayed at a campground and in the evening a local band came and played, which you could hear through out the campground.  This is really neat when it's a holiday, like the 4th of July. 
They also will have pot lucks dinners and social gatherings that all guests are invited to attend or not.
Scavenger hunts-that's always a fun one, young or older!
On another recent trip, the host offers movie nights to all their guest. Bring your own blanket, chair, and drinks, and they offer popcorn for 0.25 cents.  
She was also looking to purchase an older RV to spice up and sell snow cones and ice cream too. How fun would that be!  
Summer Time Fun Campground Activities

Here is a list of a few outdoor activities...

Beach!
Lake & Rivers
Tubing down the river; loved this when we were kids!
Swimming
Pools
Sports
Washer Tossing, who could forget that one!
Photography
Cave tours; if the campground is attached to a Cave
Keeping those memories in a journal

Tidbit: For those HOT days, remember to re-hydrate yourself. This is very important if you're in the sun all day.  The sun can do some damage not only to your skin, but also to your thirst.  Water is the best source for re-hydration, so take care on those hot Summer days and be safe!
For Beginners

Recently a couple had stopped us when we were tearing down Cabbie and had some questions in regards to camping in general.
She mentioned to me that they brought "easy meals" so they could relax more, but then had too much relaxation time on there hands; they didn't bring anything to do with them.

I started thinking and realized that for some who have never camped before, they would have no idea on the types of Campground Activities for camping either for indoor or outdoor.
So here is a short listing for Indoor activities or for when the weather is under the sun.
Board games
Reading! Magazines, books, or whatever!
Laptop, if you work from home or fun

Crafts
Coloring book and colors
Nature Guide
Travel Guides & maps; never hurts to continue planning your next move!
Journalism or start a camping journal

Cooking, that's always fun-when your camping that is!
Watch a movie
Talking

All the above depends on what size RV you have though, storage can be a problem for smaller units. As we know very well of this! 
The ultimate goal in camping, is to RELAX and enjoy, whatever the camping activity may be, even if it's cooking!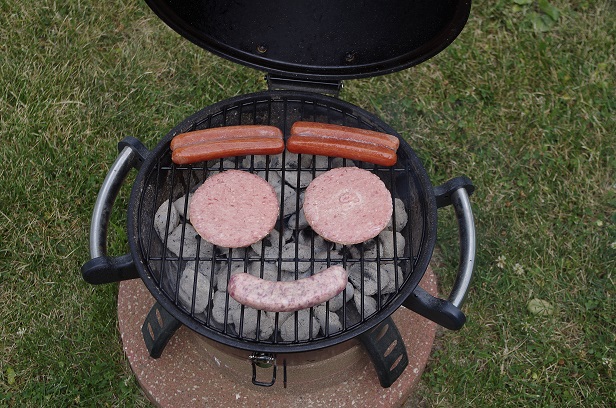 Time For Some Fun!

As you can see, you can have quite a bit of fun just hanging out at your campsite or campground during the day. 
So much to see and do, sometimes you just don't have enough time during your stay to enjoy it all.  I guess that gives you an option to make plans to come back again and enjoy it another time!

We have noticed that camping is the new activity for families to get out and enjoy together. More and more are seeing this and this is a true blessing! 
It's nice to see the "next" generation experience what we did as a family when we were kids.

We have listed some of the most famous Campground Activities. 
What are some of your favorite Campground Activities? 

Have we listed them all or did we forget some very important ones that you and your family enjoy?

We'd love to hear from you! 
Below is a short survey, be sure to fill it out and send it our way!  We'll update any new and fun information on our website so others can enjoy and start new traditions with there families as well.  Thank you and God Bless!

Written By: Melissa
Exploring Travel Trailers>Campground Activities