Buying a Used Travel Trailer

Buying a used travel trailer makes a lot of sense in today's economy, especially if you are purchasing your first trailer.  The cost of purchase can be thousands less than new and used units are always plentiful. 
Just like any major purchase there are many things you need to consider before and during your purchase.  Purchasing a pre-enjoyed unit can be compared to buying a existing home and should be approached with the same attitude. 
Travel trailers come with many of the amenities and maintenance issues that come with a house.  But unlike a house, the maintenance problems are magnified, due to the fact that they are mobile and are prone to more "wear and tear" from being on the road.
On this page we will explore what is needed to better ensure a stress free and successful purchase of a used RV.

Before Buying a Used Travel Trailer

There is an old adage that says "A journey of a thousand miles begins with a single step."  This saying holds a lot of hidden wisdom that can be used in your journey of purchasing a pre-owned travel trailer.  Before you can even set out, you need to plan your steps and have a deliberate plan of attack. 
Let's look at what you need to think about before seriously pursuing a trailer to buy.
What vehicle will you be using to tow with? This is probably the most important consideration.  Properly sizing the trailer to your tow vehicle is a matter of safety and must be at the top of your list.  For more detailed information on this subject visit our tow vehicle page.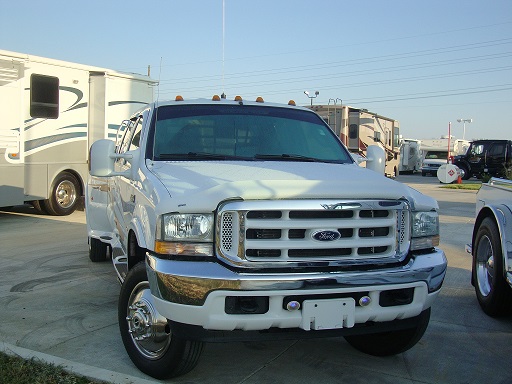 How do you plan to use your trailer? Will you only use it for occasional weekend camping trips?   Maybe traveling for vacation?  The way you plan to use your trailer will influence the type of travel trailer you buy.  For example, if you plan to travel with it, you may not want to buy a popup.
What style fits your lifestyle? Personal preference will play a large part in your decision.   You want to purchase a trailer that you will be happy with for a long time.  Take some time and explore the various types that are out there to find out which one works for you.
How many people will be sleeping in the trailer?  Your family size is a large factor in the choice of the unit you purchase.  You want to choose a trailer that has enough sleeping capacity for every person in your party.
Toy Hauler - Conventional Travel Trailer Style. See how the back door comes down like a ramp?
Your budget?  How much you can afford to spend on a trailer will greatly influence which one you will purchase.  Sit down before you even start looking and determine what you are  able and willing to spend on a trailer and look at units in that range.  Websites like RVtrader.com have price filters built in to aid you in your search. 
What kind of storage are you looking for?  Make sure the RV that you pick out has adequate storage for your needs.  Storage is very important in the trunk and inside your travel trailer.  Some purchase an RV with what they think may be adequate storage, but come to find out it's not enough for what your family needs.  If you are in search for a conventional travel trailer, popup, or hybrid this is where you need to take precautions and do your extra research before you purchase. 
Does the trailer you are considering have enough closet and or drawer space for clothing?
Is the refrigerator big enough for your family?
Do you have enough room for your canned goods and extra snack food?
Consider the bathroom.  Is there enough room for storage for your towels, bath essentials, and possibly a clothes hamper?
How about all the "extras" that you and the kiddo's like to take?
Trunk space?  Is there enough room for all of the trailer, vehicle, and other necessities that are needed for your trip?
Do you have pets?  Consider them as well along with all the necessities they may require.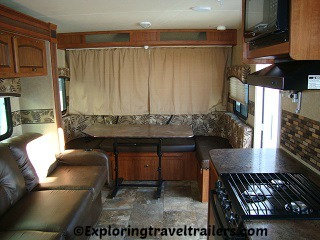 Inside a Hybrid. Behind the curtain is where one bed folds down & out
Search and Find Time

After setting your budget and determining which kind of travel trailer you want, it is time to look for your camper.  There are many places you can look. 
Many people today like to search online.  I'll bet you're one.  How do I know?  You have visited our website looking for information on used travel trailers. It is a fact more people search for items and information online before and while making a purchase.  There are many reputable online RV classified websites including Craigslist, RV-trader.com, RV-online.com, and RV-hunter.com to name a few.
Tip:  If you search online, be sure to check out the travel trailer before you purchase.  For your peace of mind, don't feel obligated to purchase the trailer if it does not fit your needs.

Dealer websites are another good resource.  Most keep an up to date inventory and you can browse without a sales person hounding you.  Camping World always has a good selection at fairly reasonable prices.
Another good resource is your local news paper.  Often good deals can be found and the trailer is usually close to your home.
If you enjoy being away from your house to search, you can check out RV dealer sales lots and consignment sales lots.  You could also drive through RV parks looking for used travel trailers that are for sale.

What to Look for When Buying a Used Travel Trailer

Buying a used travel trailer can be a bit of a challenge at times.  Just like buying a used car or house, there are many possible problems that can easily be missed if you don't know what to look for. 
Some key areas to check include the roof, ceiling and floor for water damage and soft spots.  Flooring around toilets and entry doors are especially are especially susceptible to rotting, due to frequent leaks in these areas.  
Inspect all doors, windows, and siding for signs of wear and cracking.  Be sure to check all appliances for proper operation and the overall condition.  Also test the electrical system, including all lights and receptacles.

Other equally important items to check include the tires, running and tail lights, brakes, axles, bumper, hitch and jack.
It is a good practice to take along a check list as a reminder of key areas that should be inspected when considering any unit.  This will help you maintain a practical focus on a trailer that you absolutely fall in love with.
A Little Effort Produces & Fewer Heartaches

Using a checklist when buying a used travel trailer may seem a little extreme, but in the excitement of the moment it is easy to miss problems in key area.  This is not only heartbreaking, but can also be very costly because of repairs that will be needed and may not be covered by a warranty.
Written By: Scott
Exploring Travel Trailers.com> Travel Trailer Basics>Buying A Used Travel Trailer