Teardrop Campers
Teardrop Campers are great for anyone wanting to camp and save gas.
The teardrop camper was the first style of travel trailer to be built.  Even the iconic Airstream started out as a drop in 1932.
The name of this travel trailer is derived from it's shape, which looks like a teardrop. These trailers have a small sleeping area, large enough for two people and most have an outside "kitchen".  Teardrops remained popular until the mid 1960's when they pretty much disappeared from the scene.
Today the teardrop is making a come back with the rising cost of gas.  Many people are leaving the larger units in favor of a more economical camper that can be towed by smaller and lighter vehicles.
I personally prefer a lot more room than is provided by these units, especially when we're traveling.  But, these cute campers definitely hold their own against the big boys and some are even priced just like them.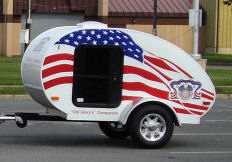 Courtesy of Wikipedia
 Teardrop Camper Benefits
Teardrops are a great choice for those upgrade from a tent, but don't want to go to a popup or larger travel trailer.  These trailers are small enough that they can be stored in residential garages.  This is a great benefit, as it can save you hundreds of dollars a year on storage fees.
With weights ranging around the 1000 pound mark, they are perfect for anyone with a smaller car.  This saves money by not needing to buy a truck or SUV to pull the camper. Check the manufacturer's towing capacity of your car before throwing the hitch on the back, as not every car is capable of towing a trailer.
Motorcyclists can benefit from this option.  There are very small teardrops that are manufactured just for bikers.  It is fun to see a couple on their Harley Touring Bike or Honda Gold Wing pulling one of these.  Talk about freedom!!!
Most teardrop campers have a nice nice bed, large enough for two adults to sleep comfortably and an outside kitchen at the rear.  This makes them a perfect trailer for folks who like to spend their camping trips outside.
If you're a handy person and have dreamed of building your own camper, this is the one for you.  There are plans all over the internet, some are even free.  I have seen several homemade drops on the road and most are very impressive. 
Vintage Trailer Supply offers some great products if you are either building a Teardrop or restoring one. 
By the way, Airstream grew from teardrop plans that were sold by Wally Byam, the company's founder.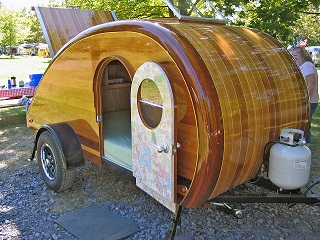 Courtesy of Wikipedia
Drawbacks
Teardrops are a very basic camper and not suited for families, since their size does not allow for much storage.  They only sleep one to two people and have no floor space. They can be very cramped and not very enjoyable on a rainy weekend, but at least you wont have wet canvas or sleeping in a soggy tent!:-)
If you are looking for some of the amenities of home, this camper is not for you.  They do not have a bathroom or shower.  There is no seating inside the trailer and no running water.  You would do better to look at some of the small or lightweight campers that are available.  I will talk about a couple below.
Teardrops Alternatives
So, you like the idea of the teardrop trailer, but want a little more room and features without sacrificing the gas mileage.  Here are two trailers that blur the lines between teardrop and conventional.
One popular option is the R-Pod by Forest River.  This cutie is a cross between a teardrop and an "canned ham" style camper.  It boasts a gross weight of just over 3000 pounds and ranges from 18-20 feet.  These trailers can be towed by smaller pickups and SUV's.
The Heartland MPG is no longer manufactured, but can be found as a used unit.  Along the same line as the R-Pod, the MPG also weighs in at 3000 category.  Their lengths are also 18- 20 feet.
Both of these units make great options for those liking the styling of the teardrop camper, but want or need a little bit larger trailer with more amenities.
It's Your Choice
While I am the type of person that prefers a larger trailer, I will tell you that the teardrop camper and the two alternatives, I wrote about on this page, are well worth considering.
These small campers do have the advantages of being easier to maneuver and park. Along with that, they are less costly to own and operate.  Plus they can be stored in a residential garage.
However they are less spacious with less storage for trips.  They also offer fewer amenities than their larger counterparts.
That's the great part of having so many options in the travel trailer world.  You get to choose what fits your lifestyle.  
Written By: Scott
Exploring Travel Trailers> Small Travel Trailers> Teardrop Campers