Welcome to Tarpon Springs Florida!
Tarpon Springs Florida is a city with in Pinellas County Florida. 
Tarpon Springs is close to Hudson Florida. 
Tarpon Springs has the largest percentage of Greeks in all of America's towns.     

How Tarpon got its name is quite interesting and very unique.  Back in 1876 visitors saw tarpon jumping out of the water, so they named the town Tarpon Springs.  Why not, that makes perfect sense!

Tarpon Springs Florida
Sponge Capital of the World!
Tarpon Springs Florida is most famous for sponge diving.  They started this back in 1905. Some of the first divers for Tarpon came from Greece.  Sponge diving became very popular in the state of Florida and Tarpon Springs Florida was leading this industry.  They brought in millions of dollars a year sponge diving.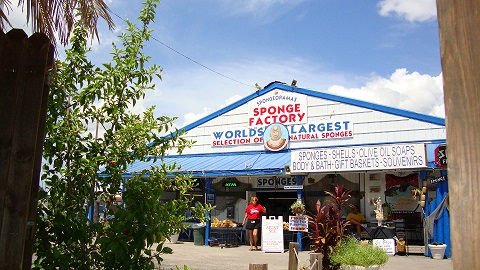 Sponging has deteriorated over the years and is not as popular; however, there are some still active in this business.  Today you can walk on a Tarpon pier and see the fisherman "sponging" and bringing them in.  Take a notice to all the boats out in the bay too.  It is just really neat to see!

Another thing to look for are all the shrimping boats!  Obviously being in Florida, all the restaurants get fresh seafood every day!  If you like seafood, this is a place for you!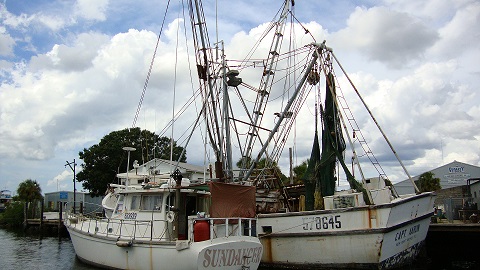 Diving Anyone?
Do you remember the heavy diving suites they used for diving?  They had some serious weight to them and had to be so uncomfortable!  They still amaze me when we head down to the Spongeorama Museum in Tarpon Springs Florida.  One word describes them…WOW!

Sponge Diver Courtesy of Wikipedia
Of course they still use diving suite today to go down under, but with today's technology they have certainly upgraded!  They are still heavy though, due to the miles they have to go down under the bay to get sponges.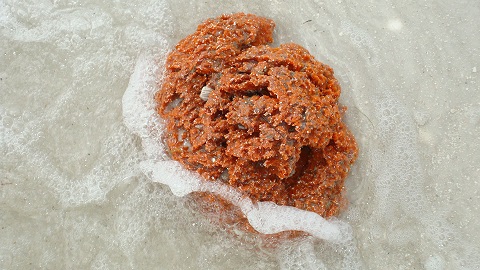 Washed up sponge on Ancolte Island
Diving is a pretty neat thing, but not everyone can do this.  It certainly takes a "special" person and for those of us who can't, thank the divers that can!  We would not see the gorgeous items in the oceans, seas, and bays that The Good Lord has provided us!  So, to all the divers out there...
A BIG THANK YOU goes out to you and all that you do! 

Our Experience or Mine?
We took a cruise from The Spongeorama on one of the boats one year out to Ancolte island.  It was really neat!  They have a diver that dresses up in the original suit they used back in 1905 and go through what and how they sponged.  If I remember correctly, he does go down under and tries to find a sponge.  They don't leave him down long, only for about five minute's tops.  Sometimes they come up empty handed, but the experience itself was worth it!

Then they take you out to this island where you can go shelling for a half hour and you learn so much about this industry.  I absolutely loved it!  I had never done anything like this before and it was really truly an experience!  If you have never gone shelling before, I highly suggest this!  It was such a blast and I was like a kid in a candy store!  My husband, Scott, loved watching me! 

Not only that, but the scenery is absolutely gorgeous!  The number one reason I love the beach is because of the scenery, you couldn't ask for a better Creator than the Master who created it!

At the end of the trip you are handed a booklet of ten post cards about the trip itself; each one sharing information about the experience you just had.  Check it out someday if you ever head to Tarpon Springs Florida.  You'll put this in your books, just like I have:-)

Things to Do
There are many things to do and see in Tarpon Springs Florida.  Here are just a few and these are in no particular order.

Shopping! Lots of shopping! 

Restaurants (Lots of Greek food!)

Boat Tours

Fred Howard Park (We visit this park regularly and highly recommend it!)

Tarpon Spring Sponge Docks

Spongeorama Museum
To help plan your next vacation to Tarpon Springs, Florida try Vacations Made Easy. 

Places to Stay
As far as our experience is considered, we have never stayed in Tarpon Springs, but there are two great parks to consider.  You can always check Good Sam's website for ratings and reviews.  We have family in Florida so we stay closer to where they live.  We have visited the parks listed below and found these two to be very reputable parks to stay.  It's a matter of opinion and preferences when it comes to your stay.

Check the neighboring cities as well if you prefer to stay outside the limits.  My opinion, this may be better unless one of these two parks fits for you.  There seems to be more RV parks in the neighboring cities this time than in the actually city we are pin pointing here.

Clearwater Tarpon Springs Campground

Hickory Point Mobile Home and RV Park
You can also check out Campgroundviews.com.  Here you can search, view, and book all in the same place! 
Signing off now...
I hope you enjoyed reading about Tarpon Springs Florida as much as I enjoyed writing this.  Honestly, we can't wait to visit again!  It is a very beautiful city and well worth the trip!  We visit every time we are in Florida!

Happy Shelling!
Exploring Travel Trailers> Vacationing With Your RV> Tarpon Springs Florida

Written by: Melissa