Orlando Florida
Welcome to Orlando Florida, The Sunshine State!  Most have either visited or have on their agenda  to visit  sometime in there lifetime.
Home of Walt Disney and Mickey Mouse!  One of the most magical places on earth for children, and adults, and we can thank Mr. Walt Disney!

Vacationing in Orlando Florida
So, you've decided to take your travel trailer on vacation to Orlando Florida, good for you!  This is one way to save money on your next trip. 
The best time to go is September through December.  This may be a difficult time for some though, but that time of year is when the snowbirds are coming back to Florida and the vacationers are starting to migrate home.  The weather is a just right this time of year too!  
We all know the worst time is Spring break and Summer!  There are blessings for all seasons though, so much to enjoy anytime of the year!

Camping In Orlando, Florida
There are many different places to camp in and around this area.  It depends on if you want to be close to Disney Parks or further away from all the hustle and bustle of the crowds.  You can choose from resorts to your basic campgrounds, from $$$$$ to $ prices.  This is what's great about vacationing with your RV.  Instead of just having one area to choose from you have many options, locations, and or counties to choose from.

You can also check out Campgroundviews.com. If you like to search, view, and book all in the same place, then you've found the right place! Take a look the next time you're searching for that perfect campsite!
General Campgrounds
KOA Kampgrounds: There are many of these to choose from, it just depends on which area you'd like to stay in.  Take a look out there to see what fit's your need. 
KOA  would not be our first recommendation, but it's a start for a resort/type place.  Check out the charges per person.  They do charge extra for children and pets, also for camping wood and amenities; however, the one's that we have visited have always been very nice and helpful. 
They are pretty good about getting you in at the last minute for an overnight pull off. Probably the best part of a KOA is that they are everywhere and you can find them easily, especially when you are traveling at night and you need a place to pull off. I will say, most of the KOA's we have stayed at have been very generous and nice.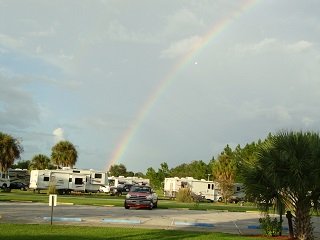 Thousand Trails Orlando Florida
Private campgrounds are one of the best places to stay.  If you happen to stay there more than once, the owners remember you time after time; which is really nice.  Not only that, but it's the pleasure of giving the owners business and getting to know them, which is the best scenario of them.
Resorts
Resorts are always a good place, especially for this area.  Most resorts offer a nice pool and leisure activities to attend, but tend to be more costly.
Disney's Fort Wilderness Resort is one resort that offers five different types of campsites  for each particular type of travel trailer or tent. 
They range in price from $100.00 up to $170.00 per night, this is excluding the tax.  Each campsite offers privacy, water, cable television, electrical hookups, picnic table, and a charcoal grill.  Most include sewer hookup, but would recommend to make reservations if this is something that you would require. 
As far as recreation is concerned they offer swimming, horseback riding, archery, and canoeing.  These are just a few of the recreational activities.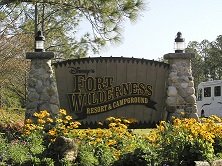 Resort Address: 
4510 North Fort Wilderness Trail, Lake Buena Vista, Florida  32830-8415
For more information on this resort, please call (407) 939-5277
Orlando today
Lots of things are going to change over the next several months due to the COVID-19 outbreak.  Orlando Florida is a HUGE tourist attraction from Disney World to shopping, to numerous other things to do.  Just like the rest of world, it's not going to be the same Disney we all used to know and love as kids.
So for those of you who are  planning a trip in the next year, here is some information to check into before making your next reservation to Orlando Florida. The link is dedicated to all Disney locations, so scroll down until you see Florida.
We hope this can be helpful for everyone. 
Blessing on your next camping and RV trip!
Planning your next trip to Orlando florida...
If you'd like to make planning your vacations easier, check out Vacations Made Easy. It's  a website that helps plan your vacation. They have a few destination's listed on the top, but if you type in the search box, you'll find your destination! So much comes up, just for that particular place. It's actually a very helpful tool when planning your next vacation!
(Located in Springfield Missouri)
Written By: Melissa
Exploring Travel Trailers>Vacationing With Your RV>Orlando Florida