Dutchmen RV

Dutchmen RV was created in 1988 and was acquired by Thor Industries in 1991.  Since then, they have grown to become one of the largest travel trailer manufacturers in the world.
Headquartered in Goshen Indiana, they produce many different styles of travel trailers under several different product names. 

The Dutchmen RV Family

The Dutchmen line up includes expandables, conventional travel trailers, fifth wheels, toy haulers, and park models.  This alone would give any manufacturer a great line up, but add to the fact that they produce them under nine different names and you have a company that can meet anyone's wish and budget.  
The Dutchmen family includes Dutchmen, Aerolite, Aspen Trail, Coleman, Denali, Kodiak, Razorback, Rubicon, and Voltage.  These are well known trailers and cover all levels of RV from entry to luxury.
The Expandables

Expandable, or hybrid travel trailers, are a very popular unit with young families and people looking for an RV that still provides the feel of camping.  Their lightweight design also provides a fuel sipping trailer, since it can be towed behind smaller trucks, vans, and SUV's.
Dutchmen RV has three brands in this category. 
Coleman is an entry level unit.  This unit offers three floor plan options that range from 18'-6" to 24'-3".  All units have a drop down bunk end on the front and rear.  Only one model is available with a slide out.
Aerolite is the mid-level unit in this class.  Also with three floor plans, these units cover lengths from 18'-6" through 25'-11".  Aerolite has two units with bunks front and rear. One with a third bunk and two a single slide out. 

Kodiak is the most luxurious of the three.  It offers four floor plans also ranging from 18'-6" to 25'-11".  Three of the units have the bunks front and rear, while the fourth is equipped with a third.  Only two of the floor plans have a single slide.
Conventional Travel Trailers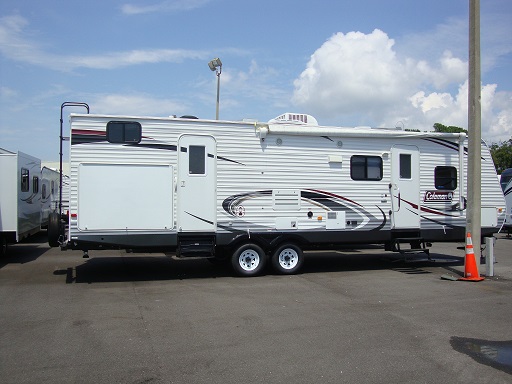 For those enthusiasts who don't want to mess with canvas but want to stay with a bumper pull unit, Dutchmen RV has a line up of five travel trailer brands.
Coleman has twenty different floor plans ranging from 18'-9" to 36'-1".  This line is an aluminum sided unit and can be purchased with no slide outs, or up to two slides.  The Coleman line offers eight bunkhouse floor plans which makes it a very family friendly unit.
 Aspen Trail is also an aluminum sided trailer and  is a step up from the Coleman Line.  There are 18 different floor plans to choose from with zero to three slides and lengths from 18'-9" to 39'-9".  For our friends with families, the Aspen Trail offers seven bunkhouse models.
 Aerolite is a fiberglass sided lightweight unit with GVWs from 6,000 to 10,000 pounds and lengths between 25'-8" and 37'-7".  Six bunkhouse floor plans are included in this model.  Five of the coaches include an outside kitchen, which consists of a two burner stove and a three cubic foot refrigerator.  Two models also include an outdoor TV with the kitchen.  All the trailer in the Aerolite family offer two front outdoor storage trunks.
Kodiak boasts a more luxurious interior than the previous units, but still remains a family friendly camper.  These trailers range in length from 25'-9" to 36'-11" and weights from 5,500-8,900 GVW.    Kodiak offers fifteen different floor plans featuring units with no slides through three slides.  They also offer eight bunkhouse models and four trailers with an outdoor kitchen.
Denali is the flagship of Dutchmen RV's conventional travel trailers.  With more leather seating and free standing dinette options, this is the most luxurious unit in this class.   The Denali line has eight floor plans with one through three slides. Sizes range from 27'-6" with an 8,840 GVW,  to a whopping 38' and 11,176 GVW. There are two bunkhouse units available in this group.  
Fifth Wheels
Dutchmen only has one fifth wheel model at this writing.  The Denali offers nine floor plans with one to five slides.  Their sizes run from 28'-6" through 40'-7".  The GVWs range between 10,560 and 15,500.  There is one bunkhouse unit and no outdoor kitchens available.
Toy Haulers
Toy haulers have risen in popularity over the past several years.  The ability to take your ATV and dry camp is a large draw for many individuals.  Others love going to various destinations, unloading their Harley and taking a ride.  What ever your preference, Dutchmen has three lines.
Rubicon is a bumper pull unit that Dutchmen claims can be pulled by a half ton pickup.  These units range in lengths from 24'-8" through 34'-8"  in five units.  The GVW on these units range between 9,000 and 12,000 pounds.   There is one floor plan with a single slide option, the rest have no slides.
Razorback is also a bumper pull unit.  A slight upgrade from the Rubicon, the Razorback also has five floor plans with only one unit offering a single slide and the rest with no slide.  The lengths also run from 24'-8"  through 34"8", but the upgrade is evident in the high end GVW which is between 9,000 and 13,500 pounds.
Voltage is Dutchmen's fifth wheel toy hauler line.  With thirteen units that range between 35'-11" and 43'-10" these trailers have GVW ratings between 16,500 and 18,000 pounds.  Most floor plans have three slides, only five are equipped with two.
The Rest of the Story
Over the years the Dutchmen RV line has changed.  Brands have been added and brands have been discontinued.  With that being said, there are many more brand names on the road and on dealers' lots that are members of the Dutchmen RV family.
Dutchmen Corporation has had it's successes and problems, like any company, but has grown and still has many loyal customers today.  It would be worth your time to explore Dutchmen Travel Trailers for your self.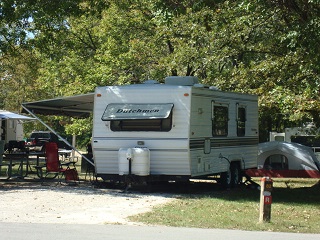 A Dutchmen Travel Trailer on a recent camping trip
Written By: Scott
Exploring Travel Trailers> Travel Trailer Manufactures> Dutchmen RV