Welcome to Branson Missouri!

Welcome to Branson Missouri; home of the Ozark Mountain Range.  Located in Taney County, in the state of Missouri.  Known for its blue grass mountain music, museums, and the wide variety of shows they have to offer both inside and out.  Branson is forty miles west of Springfield Missouri. 

Branson Scenic Views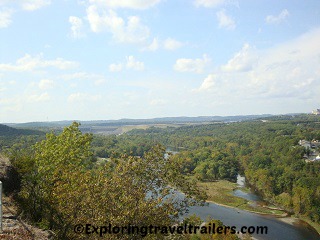 Branson Missouri Historical Facts

Branson Missouri was founded by Reuben Branson in 1882 by opening a general store and a post office.  In 1912 construction was completed to the Powersite Dam on the White River. This was constructed to form Lake Tanneycomo.  Lake Tanneycomo and Table Rock Lake are both connected by a Dam and offer a variety of recreational activities.  1959 was the completion of Table Rock Lake Dam.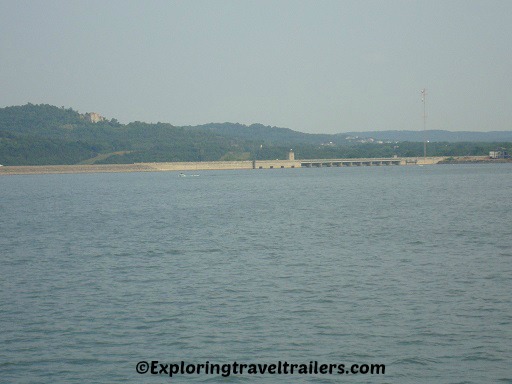 Table Rock State Park Dam
The Shepherd of the Hills was the first outdoor production based on a novel by Harold Bell Wright in 1907.  The Old Mill Theater began with this production in 1960.  They have since closed the doors, and had their last production October 19, 2013, due to the passing of Gary Snadon, the original owner of the theater. However; co-owner and daughter, Sharena Naugher, recently reopened in 2014, there 55th year!  This would be due to the out poor of email, letters, and fan mail from across the nation.   

1983 was the year that Branson started to transform into a major tourist attraction.
In 1987  Box Car Willie was the first internationally known entertainer to purchase a theater in Branson.  His name was

Lecil Travis Martin and he lived from September 1, 1931 -April 12, 1999.  Today his Theater is owned by the Dutton Family, a very talented family to see in Branson Missouri.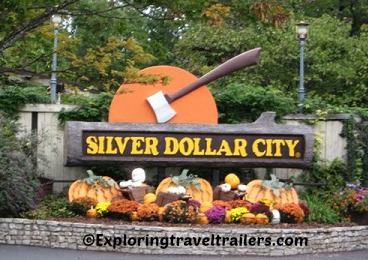 The Herschend Family opened Silver Dollar City in 1960.  Originally opened as a frontier town with five featured shops, a church, and a log cabin.  The log cabin  played out the feud between the Hatfields and McCoys.  Today the Herschend Family owns, operates, and manages 26 themed parks across 10 states.
Accommodations For You & Your RV

There are so many different types of places to stay with your RV in Branson Missouri.  You can stay at Table Rock Lake State Park, various campgrounds, resorts, or private parks. You can even check out CampgroundViews.com. 
Some offer lake views and some have down right gorgeous Ozark Mountain views.  So what ever your choice, it won't be wrong!  Check with the campground that you are most interested in staying at for a possible campground membership discount.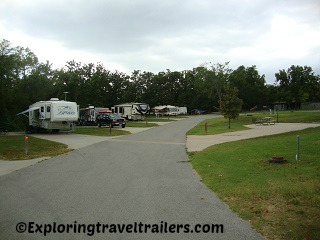 Table Rock State Park Campground #1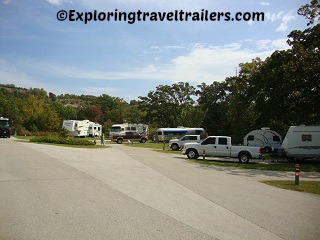 Table Rock State Park Campground #2
Branson Missouri - Table Rock Lake State Park
Table Rock Lake State Park is a great place to stay while camping in Branson Missouri.  This state park has so much to offer campers, that you and your family wont be bored! 
Reservations are recommended, especially if you are traveling a long distance.  Your basic rules and regulations apply here, just like any other state park does.
Table Rock Lake State Park offers a variety of different campsites.  From your basic site to your RV site of 30 to 50 amps with or without full hook ups.  You can also find a site that is either close to the water or one that is more primitive in the woods.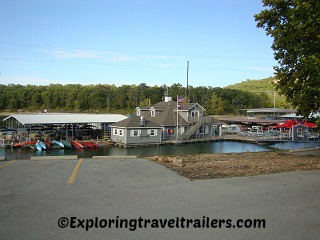 State Park Marina
Numerous water activities await you at Table Rock Lake.  There is so much to see and do, it just depends on you!  From renting a pontoon boat, water skiing, kids tubing on the water, swimming, fishing, boating, to even scuba diving!  They also offer a Café from Memorial Day to Labor day at the marina.

Branson Missouri is another place, like Orlando, that you can stay around and not necessarily in the town itself and be close to the attractions.  This is a tourist town and is very well known for the variety of shows.  Branson is a town of seven thousand and attracts more  than 7 million a year.  It's second on the list to Disney as far as resorts are concerned.  So if  you have never visited before, and you like blue grass music, antiques, and history, then this is a place you should consider visiting.  You won't be disappointed! 

Vacationing Time!

Those two words just chime in everyone's ears!  It's so nice when you can take a vacation, head off with your RV and just do your own thing on your own time:-) 
Recently we went to Branson, Missouri and we had the time of our life!  It was so relaxing and enjoyable.  I think the thing we enjoy most is just being outside and enjoying the outdoors. It just feels like its all hustle and bustle all the time at home, but when you get out and away from your daily rituals it feels like "home" and so much more laid back.
In Branson, Missouri you can spend a lot of $ or save a lot of $$.  We chose to save this time and only saw one show that we both wanted to see since we were kids:-)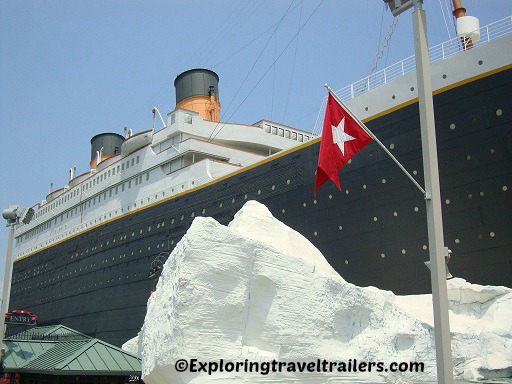 Titanic Museum
Most of the time we spent walking and hiking, when we could.  You see, we had a lot of rain the last part of the week so with our Hybrid we had to take precautions.  That's okay, we weren't the only ones checking things out when the rain let up!  We planned most of our activities early in the week so we could enjoy the first part of the week in Branson, Missouri.  
On this trip, we noticed it is very difficult to find fire wood around the campsite.  The campground host does not sell it.  You either need to buy it in town or at the State Park Marina for $4.50 a bundle.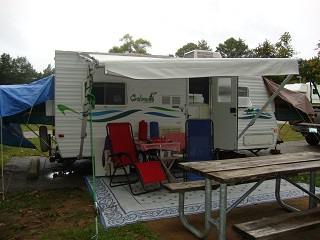 Tarps Work Wonders on Hybrids!
Things to See & Do
So much to see and do it's not possible to list everything!  There is something for kids on up to adults here.  Here are some things that may be of interest to you and your family while visiting Branson Missouri.  They are not listed in any particular order. 
Sight and Sound Theater Branson
Silver Dollar City
Sight and Sound Theater
Branson Belle Showboat
Branson Scenic Railway
Titanic Museum
Miniature Golfing
Boating and Fishing
Shows, shows, and more shows!
Lets also not forget about the unbelievable display of Christmas lights starting from November through December each year.  They light up the city! The four largest places to see would be Trail of Lights, Shepherd of the Hills, Festival of Lights, and Silver Dollar City.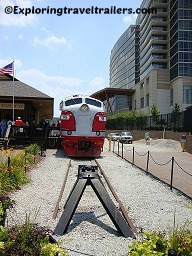 Branson Scenic Railway
Highway 76...tons of shows, and attractions all up and down this strip of highway.  It was the original highway into Branson, Missouri many years ago.

The first show to ever set foot on the "strip" in 1967 was The Presley Family, they are no relation to Elvis Presley.  A year latter, the Baldknobbers.  Now days there are over 50 theaters on the strip alone and over 100 shows, this does not include restaurants, retail shops, and museums.  It is very busy, so come prepared and with lots of patience.

The "Worlds Largest Parking Lot"

Highway 76 is nicknamed "The Worlds Largest Parking Lot"  You can find parks to stay at on Hwy 76, and walk to most of the attractions. 
We much would rather avoid it completely, and stay on the brinks of Branson. That is our choice though, we enjoy the peacefulness of nature and go to the hustle and bustle when we choose too.  That is what's so great about exploring travel trailers, you get to choose where you want and how much you want to explore.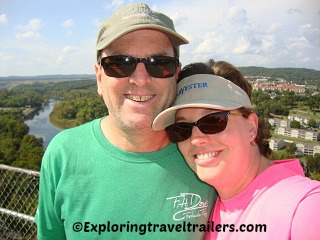 Enjoying one of many overlooks!
We enjoy Branson each and every time we visit, we hope you do too!

Planning your next Vacation
To help plan your next vacation to Branson Missouri, try Vacations Made Easy.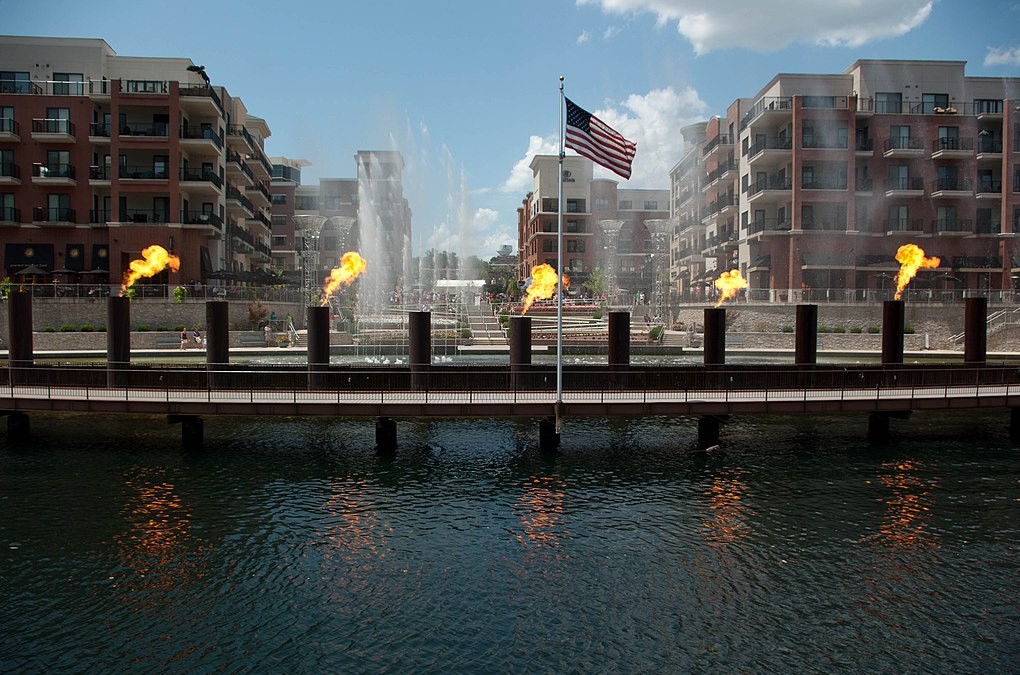 Courtesy of Wikimedia.org
Branson Tidbit:  The most popular T-Shirt sold in Branson is...
"I survived Hwy 76, Branson MO!"

Written By: Melissa
Exploring Travel Trailers>Vacationing With Your RV>Branson Missouri